Graduation Profile: Mbivnjo Etheldreda Leinyuy
Mbivnjo Etheldreda Leinyuy, 30, is a Nurse Lecturer from Kumbo Town, Cameroon. She is a Chevening Scholar and was recently awarded a Mentor Certificate in recognition of her work with the Achieving Change through Employment (ACE) project in Bangor. This project aims to support disadvantaged people from a BME or Migrant background into employment. ACE is supported by the European Social Fund through the Welsh Government. She is graduating with an MSc in Public Health and Health Promotion.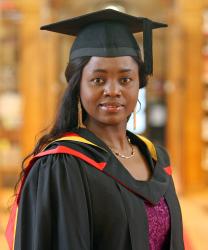 Background…
I am the youngest of a family of three girls that were brought up by a single mother who suddenly lost her husband 30 years ago. Through primary, secondary and university education, I became determined to be the best among my peers and to make my mother proud. Being passionate about healthcare, I went into nursing and after my bachelor's degree I did a master's in nursing education. I have been teaching at the Biaka University Institute of Buea, Cameroon since 2012. In 2018 I won a UK Chevening Scholarship to study at Bangor University.
How does it feel to be graduating?
I'm so excited, words are not enough to express my joy. I'm happy to have made it this far. It was a very tough journey as I had to tackle the challenges of the course amidst settling into a new environment. I give myself a pat on the back for a job well done, what more can I say after earning a distinction!
Why Bangor?
I came to Bangor because it was one of UK's cheapest cities to live in and was small and quiet. It was perfect for me as it was affordable, and I could avoid the distractions of a big city while studying.
Student Experience…
I travelled with some classmates to Geneva, Switzerland for a study visit at the World Health Organisation. It was a memorable experience and a dream come true. I also enjoyed supporting disadvantaged people from a BME or Migrant background into employment while volunteering for Change Grow Live under the Achieving Change through Employment (ACE) project and was recently given an Outstanding Volunteer Award by Mantell Gwynedd and also earned a Mentor Certificate. I took part in the Bangor Employability Award whose workshops are an added value to the time I spent at the University. I was a member of St John's Ambulance and a Student Representative for my course.
Working and studying…
I started volunteering with SOVA (now Change Grow Live) as soon as I got to Bangor. I also got a part-time job as a health care assistant with the nursing agency, Firstcare. Towards the end of my studies I worked as a housekeeper for the Management Centre. It was difficult to manage a tight schedule, especially when I had to prepare for exams or module assignments.
What was the highlight?
Obtaining an A* in my dissertation was exceptional. The long sleepless nights and whole days in the library paid off.
University Support…
It took some for me to adjust to the UK weather as I left the hot, sunny tropics of home. Initially, I struggled to sleep and couldn't read at night and arrived late for lectures. The standard of academic writing was high but with the workshops organised by Study Skills Centre and the Employability Service, I was able to catch up in time for my module assignments.
The future…
I led a group of enthusiastic classmates in a project that won the Best Oral Presentation prize at the Manchester Public Health Conference in 2019 and look forward to this group becoming a consultancy and research group for community health and healthcare with a special emphasis on low- and middle-income countries. I hope to study for a PhD next year and eventually become a voice in the field of epidemiology and an editor for high-profiled journals.
Publication date: 13 December 2019