Graduation Profile: Osian Sanderson Evans
Osian's hometown is Penmaenmawr near Bangor. Both his parents studied at Bangor University. Osian graduated with a Law with French degree. He is a former pupil of the Collège/Lycée des Cordeliers, Dinan in France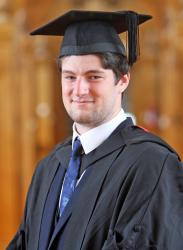 How does it feel to be graduating?
It feels strange, after four years of hard work, the ceremony marked the end of it all.
Student Experience…
The Law School allowed me to take part in an international conference in Malaysia. Bangor University was the only European University that was invited and I was chosen to lead the delegation. The conference was based around the environment and what various countries have done to safeguard it.
I also, thanks to the University, was able to go to South Korea to teach English for a summer.
Throughout my studies, I worked a Student Language Ambassador for Routes into Languages Cymru, a collaborative outreach project that aims to increase the number of pupils choosing MFL by promoting the visibility, uptake and profile of modern languages in Wales.
In my final year, I became a senior Language Ambassador which led to speaking in Parliament about my work, as well as being part of a delegation to deliver a presentation in the House of Commons in Westminster on the All-Party Parliamentary Group on Modern Languages.
Clubs & Societies…
I was a member of several societies, including the Bangor English Drama Society (BEDS), of which I am particularly proud of directing the play: 'One man, two guvnors'; Bangor University's Musical Theatre Society (SODA), The Law Society, Street Law and the Legal Advocacy. The latter three of which I was also the treasurer.
University Support…
I was affected by personal issues in my second year of study due to several factors in my life. It was difficult for a time but my personal tutor at the time, Sian Beidas was a great help and I'm much better now.
The Future…
I'll be going to China for a year staring at the end of August. I'll be going there to teach English.
Publication date: 19 July 2019