Graduation Profile: Osian Wyn Owen – BA Welsh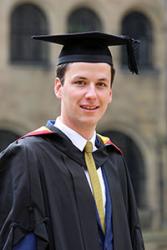 Osian Wyn OwenOsian Wyn Owen, 21, from Felinheli has received a first-class Welsh BA degree and has also won the School of Welsh's John Morris-Jones Award for the best third year results. He has also won a Dr John Robert Jones Award which are awarded annually to the best students across all disciplines at the University.
Osian is also the winner of the Gwyn Thomas Award for Excellence. This is awarded for the first time this year in memory of the late Professor Gwyn Thomas to a student graduating on the basis of (i) outstanding academic achievement, and/or (ii) a particular extra-curricular contribution. The award is supported by the Gwyn Thomas Memorial Fund which was set up to reward and support the students of the School of Welsh.
Osian has read the proclamation during the graduation ceremonies last year and the year before, and he will do so again this year, but he will have a break for his own ceremony!
Background...
I am originally from Y Felinheli and attended the village primary school and Ysgol Syr Hugh Owen, Caernarfon. After doing A levels in Welsh, History and French, I decided to come to Bangor in order to study for a Welsh degree. My main interest is creative writing and reading, and I have been competing in various local and national competitions.
Why Choose Bangor?
There is a prestige attached to the School of Welsh at Bangor University, and the excellent education provided there is nationally recognised. There are countless creative writing opportunities, and I undertook four writing modules during my time here, from 'cynghanedd' to prose. I have been under the wing of some of Wales's brightest writers during my time here. Bangor is a Welsh city in a very Welsh area which was a great advantage to me in choosing where to go. Although Bangor is not a long way from home, I have lived in the city for the three years. There is plenty to do here, and plenty of vitality!
Were you a member of any clubs or societies?
I was a member of Aelwyd JMJ and the Welsh Language Drama Society. I was also a committee member of UMCB, the Bangor Welsh Students ' Union.
Highlights:
Academically, graduating with a first class degree in Welsh and winning the Dr John Roberts Jones award and winning a Gwyn Thomas scholarship. Winning the chair at the Urdd National Eisteddfod 2018 was also a personal highlight.
How does it feel to be graduating?
Thrilling. After a fantastic 3 years in Bangor it is great to see that all the work has paid off. Bangor University's graduation ceremonies in PJ Hall are lovely and dignified, which adds to the student experience.
The future:
Next year I hope to follow a creative writing Masters course in Bangor. After that, I would like to work in the field of language or literature, and continue with the creative writing.
Related stories:
A Jam-packed Week for Bangor University's School of Welsh during the Anglesey National Eisteddfod
Students congratulated on a successful Eisteddfod
A Hat Trick for Bangor at the Inter-Collegiate Eisteddfod 2018
Publication date: 17 July 2018