Graduation Profile: Sabria and Salima Behilil – Bangor Business School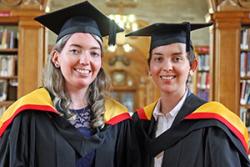 Sabria and Salima Behilil are 22 year old twin sisters from Scotland, who have both achieved first class degrees from Bangor University's Business School. Salima graduated with a BSc (Hons) Accounting & Finance degree whilst Sabria graduated with a BSc (Hons) Financial Economics degree.
Sabria has also been awarded two prestigious School prizes for outstanding performance – the William and Myfanwy Eames award for Best Final Year Undergraduate Performance in Economics and the Craig Williams Memorial Award for Best Performance in any Bangor Business School degree.
Why choose Bangor University?
Salima: I first heard about Bangor University through the student satisfaction survey. I wanted to go to a university where the student satisfaction was high, and that, teamed with the excellent course content made Bangor the ideal choice for me. Another plus is its geographical location was very appealing to me, especially since I had hoped to spend time outside when away from my studies. The accommodation that Bangor offered was also very attractive, I spent all my three years at St Mary's student village and loved it, even the hill!
Sabria: I chose to study at Bangor due to its high student satisfaction scores, its mountainous location and because the Business School offered a common first year which gave the opportunity to switch degrees should I enjoy other subjects more than my initial choice. Indeed, this proved incredibly useful as during my second year I discovered that I had a real passion for economics and was able to easily switch over to the Financial Economics program. I believe that this flexibility, while not offered by many universities, is one of the most valuable elements you can offer in an undergraduate program, as many first years have limited exposure to most areas of business and cannot make an informed choice between major subjects.
The Course:
Salima: Overall, I would say the best thing about the course was the individual in-depth breakdown of each aspect of accounting that I got over the three years. I particularly enjoyed management accounting and tax. Although taught individually, I loved how it all gelled together to give you a wide depth and breadth of understanding by the end of the degree.
Sabria: My favourite elements of the course itself were a second-year module called Current Issues in Economics, in which we studied contemporary or upcoming topics in Economics, such as Brexit and migration, which gave us an opportunity to discuss economics in an applied manner and complimented our other modules which focused more on theory; and a third-year module called Industrial Organization which relates to strategic interaction in market places. This was, in my opinion, the most interesting and exciting module offered on the course and was taught using a 'flipped classroom' technique, whereby we were required to watch lectures online prior to arriving and would work through problems and discussions in class instead, which I found more engaging and enjoyable.
Student Experience:
Salima: For me, the best thing about studying at Bangor was definitely the lecturers. They were welcoming, patient and understanding and always approachable. Not once throughout the three years did I feel unable to ask for help, in fact it was encouraged. Whether it was a simple clarification or difficulty grasping a new concept they were always available to help and work through it with me. Although the Business school is large, lecturers from my first year still chatted to me when I was in third year and always knew my name, it made me feel I belonged.
Sabria: Outside of academics my interests revolve mainly around sport and Bangor has been a great place for me to pursue this. There are many running events held in the local area and during my time at Bangor I have completed 18 of these, including 4 marathons and 8 half marathons. The students union also offer many chances to participate in loads of sports clubs regularly and for free, and I really enjoyed getting to train with the swimming society 3 days a week. Notably however, Bangor's location means that Snowdon, the highest mountain in England and Wales, is only a short bus journey away, and trekking to the summit is a rite of passage for everybody who studies here!
How does it feel to be graduating?
Salima: Having always wanted to go to university, I'm still kind of processing the fact that I have come to the end of my time here. It was an amazing three years of my life and I couldn't be more thrilled to be leaving knowing exactly which area my academic passion falls under. Despite the mixture of excitement and trepidation, I feel ready to explore the more practical side that accounting offers; all the while knowing I had a really strong supportive system that got me to the stage that I am at now.
Sabria: Like my sister, I am also struggling to process the reality of having finished my undergraduate. While I am somewhat sad to be leaving Bangor, my overwhelming emotion is one of excitement and I am really looking forward to what comes next. I feel that my time at Bangor has prepared me, both academically and personally, to make the most of the next stage in my studies and life, and I only hope that my experience at my next university is as positive as my time at Bangor has been.
The future:
Salima: I am currently applying for graduate training positions to be a Chartered Accountant and hope later to specialise within the areas of either management accounting or taxation.
Sabria: My plans for the immediate future are to complete my postgraduate study at the University of East Anglia. I have a scholarship to study MSc Industrial Economics from September 2018 and have been accepted to do a PhD in Economics the following year. Following this, I hope to work in the private sector as a competition economist for a few years, before eventually returning to academia to work as a lecturer and researcher.
Publication date: 16 July 2018