Graduation time for award-winning volunteer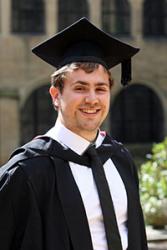 Thomas JonesA former Ysgol Gyfun Gŵyr pupil graduates from Bangor University this week, having embraced the vast array of opportunities available.
Thomas Jones, 22, from Llansamlet, Swansea graduated with a BSc (Hons) Psychology with Neuropsychology degree after three years of hard work and dedication.
Thomas said: "It feels great to graduate, and that my work over the past 3 years academically and non-academically now seems worth it! It also quite scary as the time has flashed by and I do not feel ready to leave!
"I was highly involved in with Student Volunteering Bangor (SVB), Undeb Bangor. I engaged in numerous volunteering projects, these included; hosting tea parties for the elderly of Bangor, beach cleans and environmental work around Bangor and North Wales, food collections for the Bangor Food Bank, raising over £6000 for charities as a fundraising co-ordinator and attended Ysbyty Gwynedd Hospital weekly to visit the mental health and the dementia-friendly wards. For all this I have won many awards locally and even a national award as The Welsh Council for Voluntary Actions (WCVA) runner-up Young Volunteer of the Year 2016/2017!"
Thomas ran 'the Big Give', a project that collects food left behind by students over the academic holidays and donates it to local charities - last summer, volunteers collected 1040kg of food for the Cathedral's foodbank, providing residents with an emergency three days' supply.
"Prior to the Big Give donation, the Cathedral had to regularly buy food from the local supermarket as they were not receiving enough donations from the community," said Gareth Williams Volunteering Co-ordinator at Bangor University. "After the project was completed, the Cathedral had enough food to last until Christmas, saving a vast amount of money."
Gareth Williams, Volunteering Co-ordinator, added "Thomas has always been an asset to SVB, and can always be relied upon when last minute volunteers are needed, no matter what the project is. His can do attitude always comes through, no matter what the time, place, or job and it passes on to his fellow volunteers."
About Bangor, Thomas said: "I visited a Bangor Open Day and instantly felt like this was the place for me; the city was small but still had good amenities, the scenery is beautiful, the University is highly regarded, the Psychology School staff were friendly and welcoming and the course looked fantastic with all the different modules and technology available!"
About the future, Thomas said: "I will be studying a Masters in Clinical Neuropsychology at Bangor. And following the Masters I hope to gain work experience in mental health, and then return to Bangor for a Clinical Psychology Doctorate."
Publication date: 19 July 2018