Great future ahead for Ana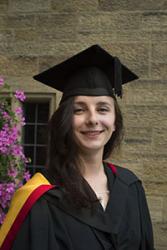 Ana PotcoavaFour years of hard work has "fully paid off" for a Romanian-born Bangor University student who now "feels confident" that her "future will turn out great".
Ana Potcoava, 22, from Brasov, Romania graduated with a Criminology and Criminal Justice with Psychology degree this week.
About her time at Bangor, Ana said: "I chose to study at Bangor University as the combination of degrees that I was interested in is quite rare across the UK.
"I struggled with the language for a short while, which impacted my self-confidence in the first year. I could understand all the academic side of things with no difficulty whatsoever, but I felt that I couldn't connect to people on a personal level, however, as soon as I got on track, it all got a lot better.
"I supported myself financially throughout my four years at Bangor. Most jobs I had were in the hospitality industry, and for this reason I moved to the close-by town of Llandudno. I always started off in a low position and worked my way up. I was duty manager in a hostel for about a year, after having started as a part-time cleaner. Later on I got hired in a pub that is part of a large UK chain, and within 6 months became team leader.
"All of this was hard work, and difficult at times, but I have gained excellent time management skills and I have learned how to keep my mind focussed.
"During my second year, I took the Study Abroad option, and spent a year at the Royal Melbourne Institute of Technology in Australia. This was an amazing experience and truly a once in a lifetime opportunity.
"I took the role of Outstanding Oral Presentation Skills for Social Sciences Students mentor in my last year, which enabled me to see what it truly means to be a teacher, and how most of the work and preparation you do for a class is hardly visible. This learning experience encouraged me to enrol on a Teaching English as a Foreign Language (TEFL) course, which may lead me to pursue a teaching career in the future.
"I hope to continue with my studies and ideally I would do my PhD in Australia. There's some really interesting social phenomena going on there, with biker gangs and anti-association laws on one side, and the introduction of a third sex as an option on passports for transgender people on the other. It's quite interesting how a society can be so accepting yet so fearful at the same time. This goes hand in hand with my dissertation thesis on moral panic, a subject I found most interesting."
Publication date: 16 July 2015