Hannah overcomes dyslexia to graduate with a First Class degree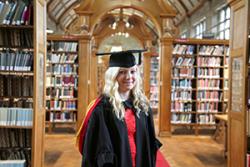 Hannah JukesA student who feared she wouldn't pass her GCSEs is celebrating graduating with a First Class degree in Psychology with Child Language Development.
Hannah Jukes from Cannock, Staffordshire struggled throughout school and suspected from her early teens that she was dyslexic. However, Hannah wasn't formally diagnosed with dyslexia until she began studying at Bangor.
Hannah said, "When I turned 13 I dropped sets in school and was getting low grades and losing confidence, but it wasn't until my parents pushed the school to test me that they suspected I may have dyslexia.
"By this point I had been predicted Es for every single GCSE I was taking, so I had to prove myself to my teachers so that they would up my predicted grades to my actual ability. I managed to get 6Bs and 6Cs but found the whole process of exams very hard.
"The same happened at sixth form where I was unable to access help and adjustments because of a lack of a full diagnosis, which the school was unwilling to pursue. I had specialist tutors who tried their best with the resources they had, and were able to get me all the help they could without diagnosis. It wasn't until I came to Bangor that I was able to get full help and diagnosis at the age of 19."
Hannah chose to study her degree at Bangor not only because of the Psychology course, but also because of the University's Miles Dyslexia Centre.
Hannah, said, "The reputation of the Psychology course was very impressive, but I knew that Bangor had a good dyslexia support unit which was really important to me.
"In my first year they helped me to get the diagnosis I needed and taught me basic essay and study skills. Over the following two years they helped me to check my assignments, work on my reading lists and taught me how to use specialist dyslexia software to assist my studies.
"I had the same dyslexic tutor for three years who I was able to build a close bond with and knew the areas I needed particular help."
Alongside studying for her degree, Hannah worked as a Psychology Oral Presentation Practice Sessions mentor, was a student warden in private halls of residence and was one of the first students to join the University's Get Ready for University YouTube channel.
Over the past two years Hannah has filmed several videos for the channel, offering her take on how to deal with university life. Hannah's videos have provided advice on a range of issues such as settling-in at university, managing finances, budgeting money and dealing with dyslexia.
Hannah added, "If someone had told me when I was 13 that I would get a first class degree despite all my difficulties with dyslexia, I wouldn't have believed them.
"To have worked my way up from the bottom where my skills were extremely poor is just unbelievable! When I found out I has an A+ in my dissertation and a first in my degree, I was so happy that I cried!"
After her graduation, Hannah us hoping to pursue a PGCE in primary school teaching and specialise in working with children with dyslexia.
Publication date: 15 July 2016