Hannah returns to her roots to graduate in Law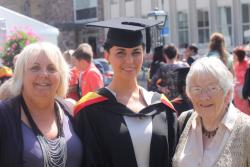 Hannah (centre) with her mother and grandmother.A Bangor University student who returned to her roots is celebrating with a 2:1 degree this week.
Hannah Mair Jones was born in Liverpool but emigrated with her family to Australia as a child.
Hannah said: "Born in Liverpool to a Scouse father and Welsh mother, we emigrated with my brother and sister to Queensland, Australia when I was a child due to Dad's work as a chef. I have always been very interested in reading and writing but left school not entirely sure of what my exact future ambitions were, until I started work in a law firm in Rockhampton, Australia. I then decided to travel Europe before enrolling on the LLB in the UK."
As Hannah's mother is originally from Abererch, Gwynedd, she decided to use this area as a base. Her grandmother still lives in the village, and it made sense for her to study nearby at Bangor University.
Hannah, 26 said: "I worked while studying to give me some independence, and perhaps also the fact that my parents – and their bank accounts – live in the Southern Hemisphere, so I really needed it in order to survive. I found it difficult at times, especially once 'essay season' and exam periods were upon me but it was a necessity and something which I am proud of.
"Homesickness has been my biggest hurdle! It really does eat you up like an ailment, but unfortunately a trip to the GP and a prescription for antibiotics just will not cure it! I was fortunate to return home to Australia last summer for ten weeks and am grateful that the time spent with family and friends put me in the right mind-set to face the final year! Also, my mother is coming over from Australia for graduation which I'm thrilled about."
The graduate has already secured employment as a legal secretary at Humphrys & Co Solicitors in Rhyl. She will also start a Legal Practice Course part-time in Liverpool this September.
Hannah said that she feels indebted to her lecturers at Bangor Law School.
She said: "In my belief, Gwilym Owen and Yvonne McDermott-Rees are both a credit to the Law School at Bangor. I am grateful for their knowledge, but most of all for their friendly and student-focused approach to teaching!"
View a short interview with Hannah.
Publication date: 10 July 2014