Hard work earns Tom a distinction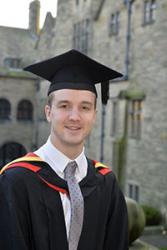 Tom BradyA Bangor University student with aims to climb the corporate ladder graduated at the winter graduation ceremony recently.
Former Sale Grammar School student Tom Brady, 24, from Sale, Cheshire was awarded an MA Business and Marketing with distinction from the Bangor Business School.
After studying Business Studies and Economics at A Level, Tom was motivated to study related disciplines throughout higher education. Upon completing an undergraduate LLB Law with Business Studies degree at Bangor University's School of Law, as well as a final year dissertation project relating to the influence of corporate governance and corporate social responsibility on business performance, he decided to enrol on a Master's degree to further his strategic understanding of business and organisational issues.
On choosing to study at Bangor University and his student experience, Tom said:
"The opportunity to study both Law and Business Studies motivated me to choose Bangor. My experiences as an undergraduate within Bangor Business School, specifically the high standard of teaching and accessibility, and ability to create relationships with lecturers facilitating my experience and learning, confirmed that Bangor University was the right place to study a Master's degree.
"As an undergraduate, I worked as a part-time Sales Assistant at Republic (Retail) Ltd which offered me opportunities to apply my learning in the work place, contribute to the local economy and support myself financially. I thoroughly enjoyed the experience interacting with the broader community.
"Driven by my passion for music, I played a key role in re-branding the Bangor University DJ Society, where I applied my learning and was responsible for organising and managing events for its highly motivated network of students. I valued the opportunity to introduce and develop the society's online platforms, facilitating a more inclusive and engaging society. My achievements were recognised by the Students' Union and I was awarded the Silver Award for Outstanding Contribution to Societies and Community. I co-hosted the DJ Society Friday Night Takeover on Storm FM – Bangor's Student Sound, allowing me to share my passion for music and offer a more diverse range of genres across Bangor.
"I also published numerous music reviews for Seren - Bangor Students' Union's English language Newspaper. I was also a member of the newly formed Bangor University Golf Club offered opportunities to represent the University in competitions.
"Overall, the Students' Union offers a fantastic range of free to join clubs and societies that allow students to interact and create relationships with other students as well as applying and gaining new skills and knowledge. I am grateful to have had the opportunity to contribute to these societies and I am proud of what I have achieved.
"The highlight of my time at Bangor was being rewarded for my hard work and determination by receiving a distinction for my Master's degree. Furthermore, I will value the friendships and connections I have formed during my time at University.
"Suffering from anxiety sometimes affected my performance, however, with the continued support of my friends, family and the University, specifically Bangor Business School lecturers, administrative staff and student services, I was able to overcome challenges and achieve a distinction. I would like to thank the University for its continuous support throughout the last four years and for creating an environment that allowed me to speak confidently and confidentially about any problems or worries that I had.
"I am extremely proud of what I have achieved and am excited to share my achievements with my friends and family at graduation. However, it will be emotional leaving Bangor, which has been my home for the last four years.
"I am actively pursuing a career which will allow me to apply and utilise my skills and knowledge gained whilst at University. Specifically, I would like to fulfil a marketing role, as I am particularly interested in the area of strategic marketing and management."
Publication date: 17 December 2015