HND takes Dyfan from redundancy to a promising new career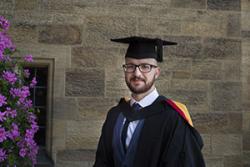 Dyfan PhippsAn Anglesey man who was made redundant is celebrating the start of a new career in accountancy after graduating from Bangor University.
When Dyfan Phipps, from Benllech, lost his job with payroll company McKesson in 2011, he decided to return to education and pursue his life-long interest in business and finance.
Having left school at 16, he lacked the qualifications required for university, and enrolled on Coleg Menai's HND programme in Business Studies.
After successfully completing the two-year course, which is run in partnership with Bangor Business School, he was accepted onto the University's BA degree in Accounting and Finance.
Now, he's looking forward to a bright future having started a new job and career with Gardners Chartered Accountant, Holywell.
"I have always wanted to go into accountancy, and my goal was to obtain a degree in accounting and finance", says the 28-year-old, a former pupil of Ysgol Syr Thomas Jones, Amlwch. "I never attended sixth form, so the HND programme helped broaden my knowledge before starting a degree. I have a better understanding about other business aspects like marketing and organisational structure, which complement my knowledge of accounting."
Having left school at 16, the academic environment of the university was initially somewhat of a shock to the system for Dyfan. "The biggest challenge in going straight into the second year of the degree was having to sit exams – I had not sat any sort of exams since I was 16", he explains. "But I overcame this by speaking to my tutor and to other students to find out the best way to revise. I soon became familiar with what worked for me.
Dyfan, who has since moved to Llandudno, proved his commitment to his career ambitions by working part-time as an accounts assistant for electrical firm Owen and Palmer alongside his studies. But this dedication doesn't stop with his new degree: "I will be going straight into studying for an ACA (Associate Chartered Accountant) qualification, which, if successful, will qualify me as a chartered accountant with the Institute of Chartered Accountants in England and Wales."
He describes his time at Bangor as "a challenge, but an incredible and unforgettable experience.
"Gaining my degree has definitely improved my future prospects – without it, I may not have been considered for my new job."
Publication date: 15 July 2015