Honored award a gift for parents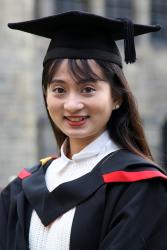 Tran Nhu Oanh NguyenA Bangor University student awarded best performance by a final year Postgraduate in Business, Management or Marketing graduated this week with an MA in Business and Marketing.
Tran Nhu Oanh Nguyen, 22, from Ho Chi Minh City, Vietnam on choosing to study at Bangor University said:
"Before taking a Master's degree I worked as a PR executive for Redder an advertising company in Vietnam. I then took up an internship at Edelman, a global PR firm based in Ho Chi Minh City, Vietnam. I was really interested in communications, branding and marketing in general and decided I wanted to further my marketing knowledge and thus chose a postgraduate course overseas. Having researched universities in the UK I shortlisted several high ranking universities; Bangor came top on my list. I fell in love with the peaceful surroundings and countless views, the reasonable cost of living, together with its reputation for research and student satisfaction.
About her time at Bangor University, Tran said:
"Whilst studying at Bangor I applied for an internship overseas at Boston Chinatown Neighborhood Centre, Boston, USA which was an exciting experience. I was also a member of the Ukulele Society and established the Vietnamese Society. The workshops offered by the Study Skills Centre was second to none and helped me improve my CV.
"Every moment at Bangor has been unforgettable. I was given freedom, the opportunity to speak, to express and to discover myself whilst studying.
About graduation day and her future, Tran said:
"Very excited and can't wait to receive that honored award as a gift for my parents.
"I hope more and more Vietnamese students will experience Bangor University as I have been so lucky to have such a life changing experience whilst pursuing higher education.
Publication date: 15 December 2016