Inspirational student achieves distinction whilst battling cancer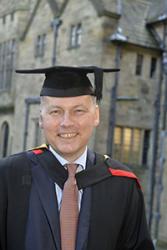 Ian RobertsAn inspirational student battling advanced prostate cancer graduated from Bangor University this week with distinction.
Ian Roberts, 46, from Y Felinheli not only graduated with a MBA in Management with Distinction, but was also awarded a prize for the final year postgraduate student with the best performance in business, management or marketing.
After leaving school, Ian worked in the hotel industry for 12 years, he began as a Trainee Assistant Manager at the St Tudno Hotel in Llandudno, then Bodysgallen Hall, Llandudno and left as Operations Director of a hotel and golf complex in Sussex. Following a career break working as a Ski Guide, he returned to work as an IT consultant and most recently over 9 years as Business Development Manager then Head of Strategy in the banking industry.
Although Ian had a varied and successful career, when the bank he was working for was taken over, he wasn't sure what to do next. With a constant thirst for knowledge, Ian had previously studied short Open University and many online courses, so when a friend recommended Bangor University, he decided to come home and study for a degree at the Bangor Business School.
Ian explained:
"My father used to work at the quarry in Penmaenmawr then took a number of expatriate assignments overseas, which led to a childhood growing up in such countries as Iran, Sudan, Hong Kong and Cameroon. As an adult I worked in land-locked countries, so I was longing to return to Bangor and to be close to the sea again.
"I started the course in September. Although a little daunting at first, I soon settled in to university life and loved it. I had been feeling unwell for a while, but didn't go to the doctor. When I eventually went to see a GP in January, I was diagnosed with advanced prostate cancer, with a prognosis of 3-5 years to live.
"If I had got an early diagnosis, I could have had surgery, but as my diagnosis was late, the cancer had spread. It's now about treating the symptoms and maintaining my quality of life for as long as possible.
"Throughout May to September I was undergoing chemotherapy whilst writing up my applied business projects. My perspective on life has changed completely. In a way, life has improved, I've a new found appreciation for life, where relationships and friendships are the most important.
"Like many men, I was useless at asking for help, but got better at it. The University has provided me with a lot of support; not just talking about cancer, but also every aspect of my life and the Student Counselling Service staff have been an invaluable support in helping me lead a richer and more fulfilling life.
Professor Phil Molyneux, Dean of College of Business, Law and Social Sciences, said: "Ian has performed to an exceptional level on his MBA, achieving a distinction award and being the best postgraduate student in a business related area. Ian decided to do his MBA Management after a stint in various banks in Luxembourg. He chose Bangor after discussions with his friend Bangor Alumna, Tracy Powell and myself. Despite various challenging health issues, he was an inspiration to us all managing to complete his academic work to a very high standard over the year."
About the future, Ian added:
"Having a terminal illness doesn't define me; I'm looking forward to my treatment ending so that I can get back to work and make a difference. I'm enormously grateful for the support of my family and friends who cherish me, and I'm already thinking about what to study next. The Bangor MBA has helped me develop my critical thinking and will give me more credibility in the job market. I'm looking forward to bringing my new skills to bear on real-world business problems."
Publication date: 17 December 2015