Janine is ready for a new adventure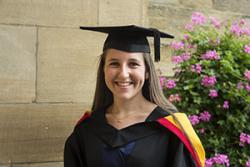 A Bangor University graduate from Chester is preparing for a new life having secured a place on a highly competitive graduate training scheme.
Janine Schofield, a former pupil of Rossall School, has won a coveted position on the PricewaterhouseCooper graduate programme, which will see her train and qualify as a chartered accountant.
The 21-year old is now preparing to move to the island of Guernsey, where she will be based for the duration of the training scheme.
It may be a big move, but Janine, who achieved a First Class degree, feels ready to face the challenge ahead of her. "Bangor has provided me with an excellent foundation to start my career", she says, "and my degree in Accounting and Finance has given me a general understanding of the different aspects of my chosen career path."
Aside from the academic background, something else that Janine will take with her to the Channel Islands is a determination to take advantage of the opportunities available to her. "Being at Bangor has taught me to make the most of what is available to me", she says, having certainly done that at Bangor. During her three years at the University, she has been a member of the sailing and badminton clubs and the Business Society, and has participated in academic-related schemes such as peer guiding and the Study Buddy and Study Leader programmes. "Being involved in these societies and schemes has enabled me to develop friendships, as well as vital skills including organisation and listening", she adds.
As she looks forward to a new chapter in her life, Janine has fond memories of the experiences that Bangor offered her. "My time at Bangor has been an exciting adventure from beginning to end with all the opportunities that have been available, including, most notably, a trip to China in my first year", she says. "The friendly and supportive nature of the staff has also added to my enjoyable experience."
Publication date: 10 July 2014