Karate star Emma excels in and out of the classroom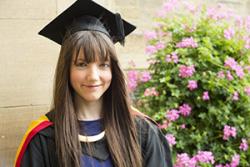 A karate-mad local student is celebrating success of a different kind this week as she graduates from Bangor University with a First Class degree in Business and Accounting.
Emma Sara Hughes, from Bangor, achieved the third highest mark in her year in the Business School. She was nominated for one of University's prestigious Dr John Robert Jones prizes, which are awarded annually to the graduating students who achieve the best marks throughout the institution, and won the School prize for the best performance in Business, Management or Marketing.
In recognition of her achievements, and her potential for further study, the former Ysgol Tryfan pupil has also been awarded a full tuition fee scholarship to study a Masters by Research degree at the University in September.
The classroom is not the only place that Emma has excelled, however. Having attended karate classes since the age of 13, she has won several medals – including 5 gold – in UK competitions over the years. But for Emma, the appeal of karate is in the participation rather than the trophies.
"I started karate after trying a taster session at Maes Glas Sports Centre in Bangor", says the 21-year old, who achieved her 1st Dan black belt in 2011. "From the very first session I was addicted to it. What I enjoy about it is that it is not only physically challenging, but it's also mentally challenging, as there is always something new to learn and a way of perfecting your technique even further."
The dedicated student has managed to balance her studies with her love for karate by helping to run Bangor karate club Seki Ryu Zan, where she is also an instructor. "Taking a session can be very difficult because the ages range between 7 and 60 years old, and they all have different abilities", says Emma, who has also held down a receptionist job at Maes Glas during her studies. "But I thoroughly enjoy sharing the knowledge I have about karate with others and I try to inspire them to develop a passion for it too."
Now, she faces a new challenge as she prepares to undertake her Masters degree in September. Under the supervision of Dr Doris Merkl-Davies and Dr Tony Dobbins, she will examine how conflict within organisations is portrayed by employers, the media and trade unions, by looking at discourse related to recent strikes (e.g. London Underground and teachers' strikes).
"Many people said I should study at a university away from home, but I don't regret studying at Bangor at all", she says. "I was unsure which degree would be right for me, but as all business students study the same modules in the first year, I had enough time to figure this out before specialising in Business and Accounting in the second year."
Publication date: 10 July 2014