"Life-changing": Ashley overcomes anxiety to pursue barrister dream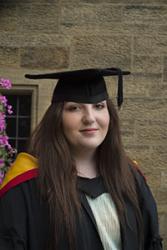 Ashley CovillA Bangor University student who was diagnosed with anxiety during her second year of study has overcome her condition to graduate with a degree in Law and Criminology.
Anxiety often leaves Ashley Covill, from Manchester, feeling insecure and low in self-confidence, making even simple tasks like socialising overwhelming.
But thanks to the support of her lecturers at Bangor, the 21-year-old is now well on her way to achieving her dream of becoming a criminal barrister.
Ashley, a former pupil of Cardinal Langley R.C School, explains that she was always a nervous person, but didn't understand why, or how to deal with it. "I would constantly overthink things and sometimes become paranoid and be extremely insecure in all aspects of life", she says. "I'd be constantly doubting myself, which caused a lot of problems during exam periods as I'd believe I wasn't able to achieve anything – in my mind, I was incapable of doing anything."
Starting university presented a new challenge to Ashley: "Sometimes, going to a lecture and being in a room full of unfamiliar faces would just make me feel as if the room was closing in. My chest would become tight and I'd feel suffocated and start to panic – eventually I'd have to leave."
Whenever this happened, Ashley would email her lecturers, who she says were invariably "understanding and supportive".
"Luckily, thanks to the resources provided by Bangor I was able to keep up with the work load by being able to access lecture slides, tutorial notes and extra reading whenever I needed them."
This commitment to her studies has secured her a place on the Bar Professional Training Course at Manchester Metropolitan University – the vocational training which will qualify her as a barrister.
"Everything I've experienced as an undergraduate student at Bangor has been worth it", she says. "I've developed the academic, advocacy and social skills needed in order to become a successful barrister.
"I'm now a more independent, self-motivated and self-disciplined person. I've found a new confidence within myself which gave me the courage to apply for the BPTC. I'm looking forward to what the future holds and starting the next step of my career in Manchester."
It's a testament to how far Ashley has come that she volunteered as a senior peer guide, welcoming new students to Bangor – something she describes as one of the highlights of her university experience. "I got to interact and make friends with so many different people from all walks of life and from places such as Canada and Indonesia!
"I got a chance to make them feel welcome and settled in – hopefully, I played a part in making the start of their journey here at Bangor a happy and memorable one."
Publication date: 16 July 2015