Manager at Gwynedd Council graduates with Distinction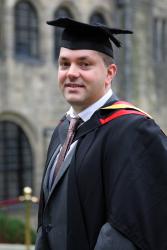 Iwan Wyn JonesA Gwynedd Council Project Development Leader returned to education and graduated with distinction after combining part-time study with full time employment.
Iwan Wyn Jones, 37, from Caernarfon received an MSc Business with Consumer Psychology postgraduate degree with distinction. Having had a 10-year break from education, this is the second time Iwan has graduated from Bangor University.
Iwan moved to England to study as an undergraduate, but found that the course wasn't suitable. He returned back to the area where he found a job and met his wife-to-be shortly afterwards. He re-started his studies at Bangor University and continued to work and graduated with a first class degree in 2003, a few weeks before getting married.
Iwan has had a wide variety of work experience, primarily in customer care, business support, research and change behaviour. Iwan now has two children, and works full-time for Gwynedd Council.
Iwan said: "I decided to study Business with Consumer Psychology to develop professionally. It was challenging to study while working full-time, but it gave me many opportunities to beneficial research to the Council.
"During the course I had the opportunity to complete a four-month work placement with the Welsh Centre for Behaviour Change at the School of Psychology. The placement was funded by 'Reverse SIP' Strategic Insight Programme. That enabled me to be released from my day-to-day duties for one day each week. I had the opportunity to advise local organisations on theory and behaviour change techniques, which led to practical research projects at Blaenau Ffestiniog and succeeded in influencing the recycling behaviour of Gwynedd residents.
"I have also been fortunate enough to complete Go Wales placements and Knowledge Transfer Partnerships between the University and industry. These experiences have been very valuable in developing my academic knowledge in relation to the world of 'real work'.
"The biggest challenge was balancing my job, my studies and time with my wife and my children, while also trying to find time for family, friends, sports and my personal interests. The group work was difficult at times because of the lack of time and the fact that my lifestyle was different to some of the other students. Although challenging, those experiences were opportunities to develop my skills further.
"I enjoy living and working in Gwynedd, and I want to contribute as much as I can to providing a positive future for the area. I am very grateful to Gwynedd Council for supporting me throughout the course. As a student who qualified later in life, I would encourage others who are considering returning to education to go for it. I would also say that study while working or after having work experience, although difficult at times, gives you a more rounded education. It is never too late to learn something new, and I believe that extending myself by completing the course has helped me to see the world in a more mature way. "
Publication date: 15 December 2016