Mared – from leading the nation on FFIT Cymru to leading a classroom!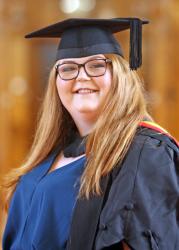 Mared Fôn OwenA student who helped inspire the nation to get fit and active as a 'leader' on S4C's popular FFIT Cymru series graduates this week from the School of Welsh and Celtic Studies.
Mared Fôn Owen, 21, from Bodedern, was a familiar face on the small screen during the spring months and lost an incredible 2st 10lbs over the show's 7-week run. The series saw Mared and four other leaders transform their lives by losing weight and developing new levels of fitness, culminating in a challenging 5k parkrun at Newborough. A goal Mared had set herself early on was to lose weight in advance of her graduation ceremony – an achievement she can now add to a long list of highlights from her time at Bangor!
For Mared, the grounding in Welsh language and literature she received at Ysgol Bodedern meant that Bangor became her top choice and after attending a grand total of four Open Days, she was certain that the mix of academic excellence and a vibrant Welsh culture would serve her well for the next three years.
'Every time I visited on an Open Day, I fell in love with the place and after a point, it became really difficult for me to imagine myself anywhere else,' Mared said.
'During my studies, I worked at a local supermarket and at a convenience shop in town. Far from being too much to take on alongside my studies, I found that it forced me to manage my time effectively – and I really enjoyed the contrast between student life and work.'
Time-management was a key issue when FFIT Cymru chose Mared as one its leaders for the show's second series, following her for 7 weeks and recording her daily life as a student – from attending lectures, to running with her housemates, to socialising with fellow-members of Aelwyd JMJ:
'I found that being on FFIT Cymru really helped in giving me that focus and drive towards my final months as an undergraduate student, too. Taking part in the programme is an obvious highlight of my time at Bangor but I don't think I'll ever forget the thrill of winning the 'clean sweep' with Aelwyd JMJ at the Urdd National Eisteddfod in Cardiff this year – it really was wonderful way to cap off three packed years with UMCB and the Aelwyd.'
Following a well-deserved break over the summer, Mared will be back in Bangor come September as she embarks on a year's teacher training course at the School of Education and Human Development – putting all that focus and time-management skills she's gained during her degree to good use once again!
Publication date: 19 July 2019