Mixing with film stars and a life- changing 48 hours in New York for Bangor Student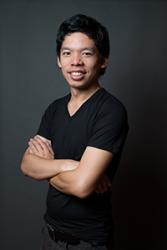 HanJie Chow, who is currently in New York.A Bangor University graduate HanJie Chow has been mixing with stars and experienced a life-changing 48 hours during his 'year abroad' as part of his studies at Bangor University.
The 26 year old modern language student, from Fakenham, Norfolk who graduates this summer, has always enjoyed performing arts, and even managed to fit in extra performing arts modules on top of his French and Psychology degree and working at a local supermarket. Through his exchange with Pace University, New York, and his studies there, HanJie has met a few 'celebs' including Danny Aiello and Bradley Cooper.
HanJie says: "A good friend of mine recently introduced me to her mentor, Danny Aiello - who was Oscar nominated for his role in Do The Right Thing by Spike Lee, and had roles in The Godfather Part 2, and Once Upon A Time in America. We've met on several occasions, and even had high tea together once at The Plaza for my friend's birthday. Also, I had just seen Bradley Cooper's play 'The Elephant Man' on Broadway (that has just recently transferred to the West End!) when I met him. He actually graduated from the Actor's Studio Drama School that is run by Pace University, and 'The Elephant Man' was the play he auditioned to the school with - so it's a full circle for him! I was actually very lucky to have taken private vocal training lessons with a teacher at Pace who taught Bradley all those years ago when he was a student as well,"
HanJie's life-changing 48 hours came when he applied for a place at the prestigious American Academy of Dramatic Arts.
Even though he'd already been accepted on London's renowned East 15 acting school, HanJie though he'd apply, as a means of staying in New York, having fallen in love with the city.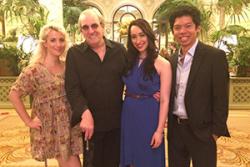 HanJie is pictured with Oscar-nominated actor, Danny Aiello; Nikki Pope (in blue), a graduate from the Academy and singer at the famous Ellen's Stardust Diner on Broadway and Emma Smith - a London-based singer."All my plans had been thrown into the air in less than 48 hours - I had applied and auditioned and I got a phone call in on a Thursday morning (2 days after the audition, and 3 weeks earlier than expected), telling me I had been accepted. That in itself would have been enough, but I was also told I had been awarded scholarships totalling to $10,000. I must have done something right!" he says.
HanJie has achieved a first class honours degree in French with Psychology and International Experience at Bangor University.
He says of his five years of study at Bangor University:
"If I was able to change my decision about pursuing the Performing Arts first instead of spending 5 years at university, I would not change anything. I would not be able to pursue the Arts without having first spent 5 years learning about myself. In short, I would not be where I am right now if it hadn't been for my undergraduate degree."
"I chose Bangor because it has a great School of Modern Languages and a world-class School of Psychology. I really loved the care and attention that was part of the School of Modern Languages because of the small sized classes. I got the sense that the school was a close-knit community where lecturers and staff strove to provide as much support to the students - and that is exactly what each and everyone one of us got throughout our time there!"
I was also totally enamoured with the location, especially being surrounded by natural beauty!"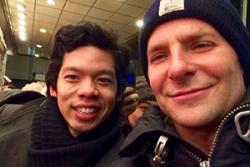 HanJie was also lucky enough to meet actor and producer, Bradley Cooper.He also enjoyed his experiences abroad,
"I spent a year out in the French Caribbean island of Martinique - it was as idyllic as it sounds! My time there was incredible, I still think about it every now and then and I miss the slowed down way of life there. Everyone's so relaxed! Following my trip, I was also shortlisted by the British Council in their annual photography contest promoting the year abroad."
During what should have been his final year of study, he decided to apply for another exchange year abroad to New York City.
HanJie managed to self-finance these periods abroad by working at a local supermarket:
"I was able to earn as well as keep on top of assignments and attendance - I've no idea how I did it! I made great friends with the people I worked with in the community. In fact, I ended up renting a room with one of the families I worked with at Waitrose in my fourth year of study. Part of my job was also the food delivery service, so I got to spend a lot of time going around North Wales delivering shopping, and although I can't speak Welsh - I can do place-names really well - even Llanfairpwllgwyngyllgogerychwrndrobwllllantisiliogogoch."
Publication date: 13 July 2015