Mum juggles work and studies to achieve a First Class degree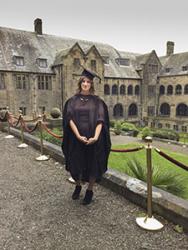 Natasha RobertsNatasha Roberts from Abersoch, has graduated from Bangor University with a First Class Honours degree in Law having overcome many obstacles during her studies.
Natasha, 23, explains how she managed to juggle having a baby, being a single mother, studying and working with the support of the School of Law staff.
She said. "During my second year I found out I was pregnant and panicked because I did not think I would be able to carry on with my studies. However, I carried on and even took Benjamin to the lectures with me as I was breastfeeding at the time."
"He will be two in august and continued to come with me until the very end. The staff were very supportive of this and allowed me to have catch up sessions and one-to-one meetings. I don't think I would have been able to get a first class degree without their help, and also Benjamin, who inspired me to carry on and do well."
About working whilst studying, "I worked part-time in Abersoch pharmacy, and have been there since 2012. It has been both a blessing and a curse to work whilst studying because on one hand I had a steady income, whereas on the other hand I had essays and exams to study for."
The highlight of Natasha's time at Bangor University was when she received a phone call telling her she had received a first class law degree. She explained, "I couldn't be happier and cried like a baby! But in all honesty, I couldn't have done it without the staff, they have been so amazing to me."
"I can't find any words to justify what it feels like to graduate. Alongside giving birth to my son, this is going to be one of the most memorable experiences of my life."
In September Natasha hopes to study a master's degree at Bangor University and pursue a career as a solicitor.
Publication date: 11 July 2016