Music success for Media graduate Cara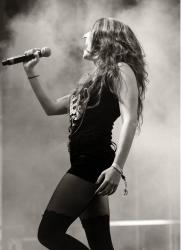 A graduate from Criccieth has been busy juggling her music career as well as managing to complete her degree.

Bangor University Media Studies graduate, Cara Braia, 22, had her first taste of success with an online competition to re-interpret a classic song by popular 60's group, The Kinks. As a result she has gone to collaborate with various artists and producers from all over the world and recently went to LA to further her career.

Cara, a former Ysgol Ardudwy pupil said: "I started to develop myself as a music artist. My track 'Maent yn dweud' was chosen as Track of the Week on BBC Radio Cymru and is played on Heart FM/ Capital FM. I also sang the song live on S4C 'Heno'. I performed on the main stage in Glass Butter Beach festival 2013 and was on the same stage as Tinchy Stryder and Goldierocks.

"I recently flew out to the US alone and managed to meet the most inspirational friends and contacts, including producers and casting directors. I also had a go at hosting with Marki Costello, a Hollywood coach who taught us about branding and presenting ourselves. I hope to go back out there later on in the summer as I had to come back to due other commitments. I would like to visit New York next time, as I have been asked to perform in a festival over there, which would be amazing."

In 2010 Cara moved to London to study at Italia Conti and went to a studio to record her music professionally. After uploading her recorded music to SoundCloud, creating Facebook and Twitter pages for herself, she started getting approached by people wanting to collaborate with her.

Cara chose to study for a degree in Creative Studies as she wanted more experience working behind the scenes, screenwriting and working on set.

"I chose to study at Bangor because it's close to my home. I live at home so I didn't have the typical student life because I was so busy focusing on my music and my work. I have enjoyed my time at Bangor especially Screenwriting, Journalism and Short Film Production modules. I am grateful to the lecturers for all the help and their support with my music."

Cara has just finished her latest track which will be released with a music video this month.
Publication date: 9 July 2014