North Wales students come top of their class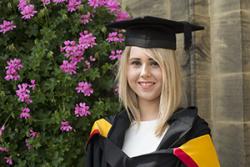 Two Bangor University students from North Wales are celebrating success this week as they graduate with the highest marks in their year.
Chloe Walters, from Hawarden, and Adam Pierce, from Penygroes, who are both graduating from the School of Social Sciences, were also nominated for the University's prestigious Dr John Robert Jones prize, which is awarded to the highest achieving graduands each year.
Chloe and Adam are just two of 17 undergraduates in the School to achieve a First Class degree, all of whom will be awarded prizes by the Head of School, Dr Catherine Robinson.
"I will really miss Bangor", says Chloe, a former pupil of Hawarden High School. "I've made friends that I'll have for life, and I've enjoyed living independently in such a beautiful area.
"The University has helped me with its incredibly supportive and understanding staff, and the course has been interesting and beneficial to me throughout", adds the Health & Social Care and Criminology & Criminal Justice graduate.
With her ultimate goal to work in counselling, 21-year-old Chloe is now preparing to undertake voluntary placements and build upon the skills she picked up at Bangor. "My studies have helped me to increase my independence, and have helped me to better manage my time by having to balance my degree with my job at Chester Zoo", she says. "I will now be undertaking voluntary work with people recently discharged from hospital, and will travel to Morocco over the winter to work with disadvantaged children. I plan to apply for graduate positions early next year in the health and social care sector."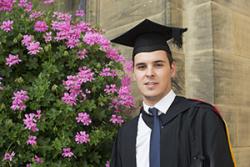 Meanwhile, former Ysgol Dyffryn Nantlle pupil Adam sees his future in academia. "Education for me has always been an extremely important aspect of my life, and I have always wanted to strive and focus on pursuing education to the highest level possible", says the Sociology and Social Policy graduate. "I intend to return to Bangor in September to study for a Masters degree in Language Policy and Planning, and eventually I hope to complete a PhD, and thereafter pursue an academic career."
Adam studied his undergraduate degree entirely through the medium of Welsh, and feels that this resulted in a more intimate university experience. "Studying through the medium of Welsh provided a much more personal lecture-student relationship, because the number of students were far fewer than those on the English-medium course", says the 22-year-old. "This provided a warmer environment during lectures and seminars as everyone on the course tended to know one another.
"One of the best things about the course has been the enthusiasm and expertise of the lecturers, alongside their willingness to offer help and guidance throughout", he adds. "They have enabled and supported me to fulfil my potential and obtain a First Class Honours degree."
Alongside making lifelong friends, Adam lists his final year dissertation as one of the highlights of his time at Bangor. "The dissertation project gave me the opportunity to conduct research based entirely on my personal interest – religion in contemporary Wales – within a broader academic context", he says. "Having the finalised version of my dissertation bound made all the hard work worthwhile."
Publication date: 10 July 2014