One of the UK's top law students graduates with a First Class degree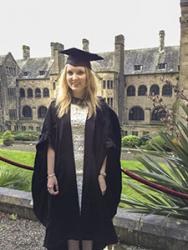 Annabelle JoyA hard working law student who was shortlisted for the UK Law Student of the Year award is celebrating graduating with a First Class degree from Bangor University.
Annabelle Joy from Crewe attended St Thomas More Catholic High School and St Nicholas Catholic Sixth Form before coming to Bangor so study the LLB Law degree.
Annabelle had not originally planned to study at Bangor but was won over during a visit to the University on an Open Day.
Annabelle said, "I first spoke to one of the lecturers, Dr Yvonne McDermott Rees, on results day and then met her at an Open Day. The enthusiasm and passion in which she spoke about the law school made it stand out to me in comparison to other law schools.
"There were also a lot of opportunities which were available to students such as mooting, street law, trips abroad as well as a careers and work experience team. It is also a relatively small law school and so all the staff and students know each other. This appealed to me as it encourages a friendly and personal approach which inevitably helps with studying."
During her time at Bangor Annabelle balanced her studies with a number of extra-curricular activities. She was a member of the Dance Society, secretary of the Street Law society and was also Head Peer guide for the School of Law. She also undertook a number of work placements with well-known law firms and in 2015 Annabelle was shortlisted for the Undergraduate of the Year Award.
She said, "I was encouraged by Dr Yvonne McDermott Rees to apply for Target Job's Law Undergraduate of the Year Award 2015. The process involved a number of online tests, after which I was invited down to Mayer Brown's office in London where I had to deliver a presentation on a topic that was currently impacting the legal sector. Following this I successfully made it to the top 10 and was invited to an awards ceremony in Canary Wharf."
"Making the final 10 of such a prestigious award was incredible, and was definitely the highlight of my time at Bangor. The encouragement and support shown by the school itself and the lecturers, especially Dr Yvonne McDermott Rees, makes the law school really special."
In September Annabelle will take the next step in her legal career as she starts the Legal Practice Course at the University of Law in Chester. Once she completes the course she hopes to work as a commercial law solicitor in a city law firm.
Publication date: 11 July 2016