Prize-winning conservation student graduates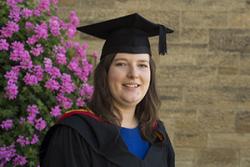 Having always been fascinated by the environment and the countryside, a prize-winning Bangor University student graduates from its beautiful setting of between the mountains and the sea this week.
Rachel Glover, 22, from Shipston-on-Stour, Warwickshire graduated with a BSc Environmental Conservation degree and also was awarded the William Griffith Prize of £100. The prize was instituted in 1950 in memory of the late William Griffith of Dolgellau and is awarded to the most meritorious final year student pursuing a course in the subject areas of land use at the School of the Environment, Natural Resources and Geography.
Feeling extremely pleased to been chosen for the prize, Rachel said: "I'm very honoured to have been awarded the William Griffith prize. I can't believe how quickly the last four years have gone by. It's very exciting to be graduating and moving on to new things. Bangor University and my course have helped me to develop my interests and shape my career path."
The former Stratford-upon-Avon Grammar School for Girls pupil chose to study at Bangor for a number of different reasons, Rachel explains: "Firstly, the course content was extremely interesting and provided me with a broad knowledge and understanding of environmental conservation issues. Secondly, I felt that the School would be very friendly and supportive, which proved to be true. Bangor's busy student community and its small city also appealed to me.
"I had several part-time and short-term jobs during university terms, which included working as a steward for Pontio, a telephone campaigner for the University's Development Office and I also represented the University at their student recruitment open days."
Rachel undertook a 12-month placement as a full-time Volunteer Assistant Ranger at the National Trust Stackpole Estate in Pembrokeshire as part of her degree. She said: "The placement was a brilliant, valuable experience and enabled me to develop my own interests. I became involved with a number of projects including leading practical conservation tasks with volunteer groups, and helped to run an eco-club at the local village primary school.
"I really loved all the field trips and practical elements of my course, including the final year trip to Tenerife. These experiences really helped my understanding of key conservation and environmental concepts."
Rachel hopes to have a career in the environmental sector and next year hopes to study a Masters in Sustainable Agriculture in order to become more specialised. She is very interested in the link between ensuing agricultural production for the growing global population and environmental protection and conservation.
Publication date: 10 July 2014