Prizes for forestry students at Bangor University Graduation 2016
July 2016
A total of 59 forestry degrees were awarded at Bangor University in July 2016, including students who had completed undergraduate, postgraduate and distance learning programmes. At a reception for all students graduating from the School of Environment, Natural Resources and Geography (SENRGy), a number of awards and prizes were presented. Robert Turner (BSc Conservation and Forest Ecosystems, 1st class with honours) from Selby in Yorkshire, was awarded the Dr Richard Poyntz Bower Prize for the best soil science project. Robert was also awarded the prize for the best forestry project by the North Wales Division of the Royal Forestry Society.
Jim Waterson, MICFor, presented Sam Huddleston (BSc Forestry, upper second class with honours) from Barbon in Cumbria, with the Bangor ICF (Institute of Chartered Foresters) Student Award. This award is for the student who makes the greatest improvement in academic performance between the second and final year. Sam completed a sandwich year placement with Forestry Commission Scotland before his final year, an experience that he believes helped him hugely in terms of his academic and professional development. Sam will shortly start work with Forestry Commission England.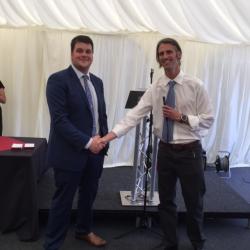 James Walmsley (right), course director for BSc Conservation and Forest Ecosystems, congratulates Robert Turner on his award.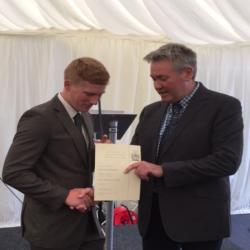 Sam Huddleston (left) receives the Bangor ICF Student Award from Jim Waterson.
Publication date: 26 July 2016