Prizewinning student graduates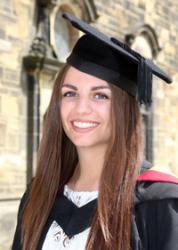 Maisie PriorAfter a strong performance throughout her studies, an award-winning student from Bangor University graduated this week.
As well as graduating with a first class BA Spanish with International Experience degree, Maisie Emily Prior, 23, also won the Dr John Robert Jones Prize of £1,000, which is awarded annually to the best students across all disciplines at the University.
During her time at Bangor University Maisie has also been awarded the B-Enterprising Enterprise and Innovation Award, BEA 200, UK Higher Education International Unit-sponsored prize for the best 'Yarn', runner up in UCAS/The Times Love Learning competition, Santander Universities Enterprise Award and a Santander Mobility Grant.
Dr Anna Saunders, Head, School of Modern Languages and Cultures, said: "Not only has Maisie produced outstanding academic work, but her engagement with university life has gone above and beyond expectations. As a Peer Guide, a mentor for fellow university students and school pupils based in the area, a successful entrepreneur and an award-winning writer, Maisie has excelled at all the challenges she has taken on during her time at Bangor. I have no doubt that will be hearing much more about Maisie in future years!
Maisie's final year work has been highly commended by the External Examiner for Spanish, Professor Duncan Wheeler (University of Leeds). Professor Wheeler was especially impressed by the depth and academic quality of Maisie's final year Dissertation (entitled 'Seeing through the Severed Eye: The Cinema of Buñuel as a Mirror for Nietzsche's notion of The Death of God'), claiming that it was the best piece of work he has ever seen at undergraduate level at any British university."
Excited about the prospect of graduating, Maisie said: "It's surreal! Especially as I have been enrolled at the university for half a decade now. Although I spent much of my degree travelling, Bangor holds a special place in my heart and I already miss it dearly. It is also amazing to be able to share the day with my family, of whom without their unconditional love, support and airport runs I wouldn't be where I am today."
Maisie, who comes originally from Littlethorpe, Leicester, said: "I came to Bangor for its stunning location and friendly-feel. During my 3rd and 5th year I had a part-time job working in the Study Skills Centre as a Peer Writing Mentor, which was a brilliantly flexible position that consolidated my love for both academia and teaching. My business 'The Luxury Copywriter' also hit the ground running during my 4th year, but I made sure to switch on my 'out of office' if I had any important university assignments coming up!

"I think setting up 'The Luxury Copywriter' has been my most significant venture, especially as it spawned from an accumulation of different work placements, internships and extra-curricular courses. However I am proud to say that the hard work has paid off, as I now count 5-star hotels, world-renowned fashion houses and even diamond designers among my clientele.
"As part of Bangor's School of Modern Languages and Cultures I was able to spend a year at the University of Santiago de Compostela in Spain, which was fantastic as it allowed me to network with other students from all over the world, as well as pick up Italian which I then went on to practice by spending the summer as an Au Pair in Venice.

"For the international Experience component of my degree, I worked as an English Teaching Assistant in two schools in Andalucía, where I also volunteered for the 'Malaga Association for the Integration of Moroccan Immigrants'. Another memorable experience was being given the opportunity to work for the VIP Concierge, Villa and Events company 'Deliciously Sorted' in Ibiza during the summer between my 3rd and 4th year, which certainly taught me to think on my feet!"
About her hopes for the future: "In addition to continuing with 'The Luxury Copywriter', this September I'm excited to be commencing a PGDE in Spanish with French at The University of Sheffield, for which I have been awarded a British Council Scholarship of £27,500. Ultimately, in the future I hope to do a PhD in Modern Languages Education, inspired by my volunteer work for the Welsh MFL Mentoring Scheme."
Publication date: 18 July 2017