Prizewinning talented musician overwhelmed with joy at graduation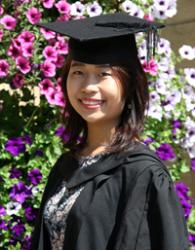 Man Sum Chan (Elly)After a strong performance throughout her studies, an award-winning student from Bangor University graduated this week.
As well as graduating with a BMus Music degree, Man Sum Chan (Elly), 21, also won the Dr John Robert Jones Prize of £1,000, which is awarded annually to the best students across all disciplines at the University. Elly has also been awarded the The Eric Morris Memorial Prize for Performance and The Philip Pascall Prize. Man said: "I feel overwhelmed with joy, beyond cloud nine! The prizes mean so much to me, it's not only an honour but also encourages me to continue making music."
Excited about the prospect of graduating, Elly said: "I have mixed feelings about graduating. I feel delighted to have completed my bachelor degree as all the hard work has finally paid off. I want to say thank you to the staff of the School of Music who gave me unwavering support throughout the three years. At the same time I feel sad because Bangor has been my second home, it is hard to say goodbye to amazing friends and I will definitely miss the fresh air and the wonderful scenery of North Wales."
Elly, who comes originally from Hong Kong, said about her time at Bangor: "I taught piano and did some volunteering during my study. Volunteering has broadened my horizon and I have made friends from different countries.
"I have participated in many interesting projects whilst at Bangor; performing fusion music at a local museum, teaching Chinese folk music at a local primary school and organising concerts for the elderly in a care home.
"In my first year I was the accompanist in the Music Society Choir and a member of the University Chorus and sometimes helped out as a pianist for the University Symphony Orchestra."
About her hopes for the future: "I want to continue to study music and make music accessible to different audiences. I would also like to be engaged in teaching because that's what I have always wanted to do. Apart from music, I would like to explore the world and improve my cooking skills!"
Publication date: 17 July 2017