Psychology student graduates after best time of her life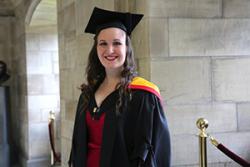 Aimee BoydAn exuberant Bangor University student graduates after five of the 'best years' of her life, having immersed herself completely in every opportunity that became available.
Aimee Boyd, 23, from Wolverhampton, graduated with a BSc Clinical and Health Psychology with International Experience degree.
During her time at Bangor, Aimee made the most of student life by participating in many student clubs and societies and volunteering opportunities. During her last year, Aimee received an individual award for her dedication to volunteering with Student Volunteering Bangor over five years. She attends the Hergest Unit at Ysbyty Gwynedd, Bangor once a week to offer activity sessions for patients, volunteers as a First Aider at Bangor University sports fixtures, coaches the Bangor University Judo Club and teaches Belly Dancing through the Bangor University Dance Society. Aimee was also recognised for her hard work developing the Duke of Edinburgh Award at the university.
She was also part of the first ever Judo team from Bangor University to win a medal at BUCS. Aimee got her black belt within the last year as well as getting full colours. She was also involved in the committee that resulted in Judo winning Club of the Year.
About her time at Bangor, Aimee explained: "Although I studied for a year on another course, I knew it wasn't right for me, as I like working with people, so I re-applied and got accepted onto the Psychology course.
"I had the pleasure of getting a place to study abroad, where I went to Australia for a year. It was such an amazing experience, and study units in Australian History, Geography and Architecture, Politics and foreign Policy, Online Data Processing, Dance, Drama, Marine Biology and Health, and Psychology. It was great to be able to study things I otherwise wouldn't have had the chance to, but it was also great to start to begin to understand how my subject area is different in different parts of the world and has given me a much greater understanding of my subject.
"I did heaps of extra things, from road trips down the Great Ocean Road, up the East Coast and through the Outback. I participated in residential volunteer projects, working in native plant nurseries, helping to restore some of Australia's first houses and Au Pairing with a variety of different families. I took regular weekend breaks to all sorts of different places – and I even welcomed in the New Year by watching fireworks on Sydney Harbor Bridge.
"I have been lucky enough to have been employed as a Bangor University Campus Life Co-ordinator. We are a team of 6 who organise events for students living in halls of residence. We do loads of trips, free food events, skills workshops such as budgeting, upcycling and cooking, as well as themed events like Come Dine with Me, murder mystery night, Christmas dinner, pumpkin carving, speed dating and movie nights.
"I've also had two internships which have been really valuable experiences and taught me so much about the work place. They have given me excellent experience which is really what you need when applying for jobs, and it's a big boost to my CV.
"I chose to study at Bangor University as it was so friendly and welcoming, it had everything I wanted in a university and I'm really glad I came here. It's sad that my time here will soon come to an end, but I'm really looking forward to an exciting new chapter, where I'll be training at Sheffield Hallam University to become a Paramedic."
Related stories:
High Sheriff Awards for students who volunteer in the community
First BUCS Team Bronze for Bangor University Judo Club
Student Profile: Aimee Boyd – Psychology with Clinical and Health Psychology
VIDEO
Publication date: 15 July 2016