Quest for a Dream Career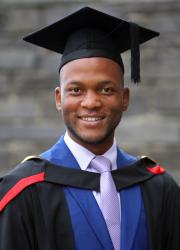 Gracious M. AliA Malawi graduates from Bangor University this week and is now on the path to success.
Having changed his career direction whilst studying for his undergraduate degree in Malawi, Gracious M. Ali, graduated with an MSc Public Health and Health Promotion postgraduate degree after securing a Commonwealth Scholarship.
Gracious' father had devoted his life to helping local farmers. He has been a great role model to Gracious and inspired his interest in community service. When he graduated from high school, he didn't think twice about following in his father's footsteps and applied to the University of Malawi to study Agriculture Extension.
Gracious soon had a change of heart about his education, he explains: "Two years into my studies, I discovered that agriculture was not my field. I had developed an unquenchable interest in public health. I graduated from the University in 2012 and secured a job with an international organization, the Clinton Health Access Initiative. I was supporting the Ministry of Health in Malawi to scale up community management of acute malnutrition in children under five years.
"I was offered the challenging but exciting task of coordinating the supply chain of malaria, diarrhoea and pneumonia drugs for 504 village clinics for under-fives. Despite the fact that I had landed myself a job in the field I longed for, I still felt that I could do much greater things if I acquired the appropriate technical knowledge and skills in public health. I therefore decided to further my studies, with the particular aim of studying public health at Master's level.
"In 2015, I started my applications to my preferred universities. Unfortunately, these resulted in the familiar 'we regret to inform you that your application for admission was unsuccessful' emails, as I was deemed ineligible. I assured myself that life goes on, and planned to bounce back with another round of applications the following year. In the meantime, I accrued another year of public health work experience to help make my application stronger.
"Upon handing over the supply chain project to the Ministry of Health at the end March of 2015, I was immediately greeted with another exciting assignment. This involved supporting the Ministry of Health in the national roll out of injectable Artesunate, a newly recommended first-line treatment for severe malaria. 2016 was upon us, bringing the opportunity to resume Master's applications, targeting the same universities, but this time around with more upbeat replies 'We are pleased to inform you that your application'.
"I was offered admission into a total of four programmes and I settled for the MSc in Public Health and Health Promotion at Bangor University. However, I still had one more mountain to climb, I had not yet secured funding for a September 2016 start, which meant I had to request to defer my admission into the 2017/18 academic year.
"My only hopes for funding were the Commonwealth Commission and Chevening scholarships, two prestigious UK government scholarships for overseas students. I was fortunately shortlisted for both schemes, and was awarded the Commonwealth Scholarship. I enrolled at Bangor University in September 2017 and my world tremendously changed during the few months of living and studying in Wales.
"The teaching and research at the University are of high quality, the people are friendly, and the environment is quiet and pleasant. I have no regrets on choosing Bangor University!
"I am now back in Malawi, contributing to government programmes to improve public health. My first task upon my return was to develop a study protocol for a pilot implementation of Human Pappiloma Virus (HPV) testing in selected public health facilities in the country on behalf of the Government of Malawi (Ministry of Health). This is a modern and precise method of screening women for cervical cancer and it is new in Malawi. The results from this study, which is now set to begin in January 2019, will provide evidence on feasibility of HPV testing in public health facilities in Malawi, and help the Government commission and scale up HPV testing as the preferred method for cervical cancer screening in all public facilities in the country.
"My studies at Bangor have given me confidence to accept and handle big tasks such as this one, which I would not otherwise been entrusted with. I will forever remain indebted to Bangor University and my sponsor, the Commonwealth Scholarship Commission, for the role that each has played in advancing my career."
Publication date: 13 December 2018