Scholarship winner Miriam proves her excellence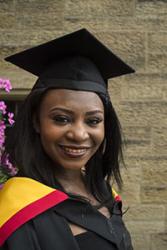 Miriam MbahA Warminster student who was awarded a £3,000 scholarship to study Law at Bangor University has been recognised for excellence both inside and outside the classroom.
Not only is 21-year-old Miriam Mbah graduating with First Class Honours degree, but earlier this year she was awarded the University's Employability Excellence prize in recognition of her commitment to improving her career prospects.
Alongside her degree in Law with Criminology, Miriam undertook several mini-pupillages and work placements – including a paid internship with Bangor University's Institute for Competition and Procurement Studies – held down a part-time job with O2, made voluntary visits to courts, had a role on the student-staff committee and acted as President of the University's Afro-Caribbean society.
On top of this, she participated in several moot competitions (mock trials undertaken in simulated court proceedings), winning two internal contests and representing Bangor Law School at the international K.K. Luthra Memorial Moot Court competition in New Delhi, India, earlier this year.
"For as long as I can remember, I have always wanted to visit India", said the former Kingdown Community School pupil. "When the opportunity came up to represent Bangor, I knew that I had to be part of the team.
"All the hard work, preparing, researching and practicing until midnight was absolutely worth it. It's definitely an experience that I will cherish for ever."
Having already been recognised for this dedication to extracurricular activities, three years of hard work inside the classroom has now also paid off, with Miriam coming top of the class in her Criminal Law module and achieving the best possible degree result.
In September, she will continue her legal education at Bangor by studying towards an LLM in Public Procurement Law and Strategy. But her ambitions don't stop there: "I hope to become a Barrister one day, so I'll either do the Bar Professional Training Course in the UK, or the Universal Legal Bar, which will allow me to practice in many States in the US. I also want to attend Law School in Nigeria and perhaps even pursue a PhD – the routes and possibilities are endless.
"The exceptional and amazing lecturers went out of their way to solve any problems and worries I had during my studies. They went through practice papers with me and some of the topics that I hadn't fully grasped. Thanks to Bangor Law School, I am not who I was yesterday, but I will be somebody tomorrow."
Publication date: 16 July 2015