Sian lands Council job before graduating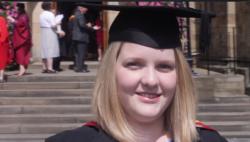 A young woman from the Lleyn Peninsula who has landed a full-time job with Gwynedd Council before she completed her course, graduated from Bangor University this week.

Sian Heulwen Roberts, 21, from Aberdaron, graduated with a 2:1 Law degree, and has recently started work at Gwynedd Council, Caernarfon.

Sian, a former student of Coleg Meirion Dwyfor, Pwllheli, said:

"It's strange to think that I will not see my fellow students and my lecturers in the same way again, but it's a great relief to be graduating with the grade I was hoping for! Time has gone terribly quickly so the graduation day itself is going to feel very strange because it is difficult to believe that I have finally finished."

Sian added:

"When I started considering going to university I was quite sure that I was going to opt for another university. However, after attending an open day at Bangor University, I changed my mind completely. All the staff were very helpful as were the students who were guiding us around the site throughout the day. I was made to feel incredibly welcome, and the resources available are second to none. There was no doubt by now which university I would choose.

"I'm absolutely sure I made the right decision and I would encourage others to do the same. My experience is an example of how important it is to attend university open days. You cannot determine which university is right for you without meeting lecturers and getting a feel for the place without visiting in person."

During her degree, Sian worked part- time on the weekends and during the summer assisting in the kitchen of a local restaurant, Sian said:

"I believe that having a job while studying is a very good idea as it encourages independence and instills a good work ethic, which will help considerably with working full-time after you've graduated."

"I had the opportunity to go to Gwynedd Council's Legal department on work experience one day a week for 24 weeks. It was a great help to me in terms of seeing how a professional office operates on a daily basis. The experience was second to none. "

Sian now has the position of Assistant Estates Surveyor at Gwynedd Council, Caernarfon, and is thoroughly enjoying her work. Sian added:

"Since I started my new job with the Council, I have also been accepted to attend a postgraduate Commercial Property Management course in Liverpool in September, and I hope that I will be very successful at it."
Publication date: 16 July 2014