Talented Anglesey-born choir leader and singer graduates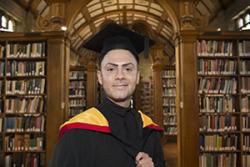 Kiefer JonesAfter a rollercoaster three-year journey and initially feeling out of his depth, a talented Anglesey-born student graduated with confidence at Bangor University this week.
Former Ysgol Syr Thomas Jones pupil, Kiefer Jones, 22, from Amlwch, received a first-class BMus Music degree. Throughout his degree, Kiefer maintained a part-time job as a choir leader for Tenovus Cancer Care, earning an income to support himself.
Kiefer said: "It feels wonderful to be graduating. After three years of intense study I am very proud to have achieved my goal. I feel that I have done my family and home-town proud and have proved that you do not need to come from a privileged background to do well at university.
"I began to study the piano at a young age and although I enjoyed my school life, all I wanted to do was perform. My parents, despite never having much money, always managed to scrape enough together for me to have private music lessons. Having the opportunity to specialise in performance has allowed me to explore various fields within music, from music teaching techniques, music analysis, performance and composition and now, unlike how I initially felt when I began my course, my confidence has grown.
"I chose to study at Bangor University as its quality of teaching in music is highly rated and I felt that it would be the right place for me to begin my journey into becoming a professional musician. Although Bangor isn't too far from home, it was far enough for me to stand on my own two feet and begin living independently. It was also important for me to maintain my job as the leader of a Bangor-based choir.
"When I began the course I had low-confidence and felt that my peers deserved their place at university more than I did. Many of my fellow students came from families of classical musicians who have had training from a young age. My confidence is still growing and I have a long way to go. Confidence is an important part of any performer's development and I feel that as it grows, so will my vocal skills and technique.
"Working whilst studying was very tough at times, but it meant that I could pay my rent, bills and have a good standard of living. It has also taught me how to manage my time effectively. At first I was concerned that it might have a detrimental effect on my studies, but now I will not only be graduating with a first-class degree, but I will also have good work experience to take forward into my next venture.
"As part of a module requirement, I ran a community music project where I offered a free, specialist voice workshop for singers at Ysgol David Hughes in Menai Bridge. This was a good experience for me to get an insight into teaching in a secondary school environment.
"The highlight of my time at Bangor was meeting opera director, Marian Bryfdir. She has worked wonders with my voice and introduced me to the beginnings of classical voice training. It was an honour and a privilege to be her student and that would never have happened if I had not have chosen to study at Bangor.
"Sadly I lost my father unexpectedly in February this year and was worried that it might affect my final assessments and performances. Thankfully with the support of my friends, family, colleagues, my wonderful choir and the remarkable work of the staff at the School of Music, I found the drive and motivation to come back fighting and now I couldn't be happier with the result!
"In the future, I hope to be a professional performer on the stage. Although I am unlikely to be ready for this for many years to come, I would be happy to work with other young beginner singers introducing them to the amazing techniques, exercises and work that I have been shown."
Publication date: 15 July 2015