Talented young playwright graduates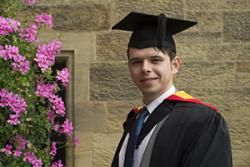 A local young playwright graduated from Bangor University this week after a successful three years of hard work which has led to the commissioning of his play.
Former Ysgol Botwnnog and Coleg Meirion-Dwyfor student, Llŷr Titus Hughes, 21, from Sarn, Pwllheli graduated this week with a BA Welsh degree.
Happy to be graduating, Llŷr said: "It is both a pleasant and a very strange feeling to be graduating, the past three years have flown by and while I'm looking forward to graduating it does feel like the end of an era. Because I've enjoyed the past three years so much, I'm slightly apprehensive of ending them 'officially'.
"I'm originally from the Llŷn Peninsula and spend my time between my home there and Bangor. I received my education firstly at Edern Primary School, at Botwnnog secondary school and then at Coleg Meirion-Dwyfor. Undoubtedly I would not be graduating with my present grad without the high standard of education I received from these institutions. I have experienced some success while writing creatively both while at Bangor and otherwise and my hope is to continue in that field in the future.
"I chose to study at Bangor as within the first hour of the open day at the School of Welsh, I was sure that I was going to Bangor to study. Not only was the academic offering the best in my opinion, but also the best suited to my needs. The School's atmosphere was very comfortable and it was obvious that the lecturers were passionate about their respective fields. The University itself also appealed to me, not only because there were many resources available, but because it seemed like a pleasant place.
"I was a part of the 'O sgript i Lwyfan' (From Script to Stage) scheme which in the end saw me being formally commissioned to write a play. I also got the chance to have periods of work experience with two Welsh publishers, an experience that was very useful to me. I have recently returned from a week representing Wales in the Arteden Cultural Festival in Italy; a fantastic experience that would not have been offered to me had I not chose to study at the Bangor's School of Welsh. During my last year, I also had the chance to learn many useful skills while working for an internship with the School of Welsh, finding online resources for students.
"I was part of the crew that has reformed the Welsh Drama society and we have now formally become a society under the wing of the University. I have also been helping with 'Cymdeithas Llywelyn', a society for helping those who are or who would like to learn Welsh, and have been taking part in many activities planned by UMCB. The fact that one can join any society for free is very useful.
"In the future, I hope to continue to do a Master's degree and then maybe a PhD, I also hope to continue writing and to create a career for myself in that field."
Publication date: 10 July 2014