'The Changing Face of Food Poverty' researcher awarded PhD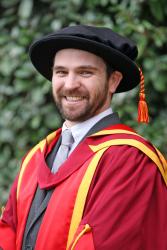 Dr David BeckDavid Beck left school in 1999 with very little qualifications. He worked as a milkman and bricklayer in Bolton for 10 years until, along with his wife and six children, David moved to Bangor to study for his first degree. Today, David received a PhD in Sociology & Social Policy from Bangor University.
David first studied an undergraduate degree in Human Geography, where he became interested in understanding peoples' abilities to be able to source healthy food. Moving over to Social Sciences for a Master's Degree, he developed an interest in understanding the rising issue of food poverty, and why people were starting to use the local food bank.
Following this degree, David was offered the chance through a tuition fee bursary to continue his work with a PhD, again looking at the rise of food banks and, more importantly, how and why people are using them.
During his studies, David has given expert evidence to various parliamentary committees including the Welsh Government on tackling poverty in Wales and the All-Party Parliamentary Inquiry into Hunger in the UK.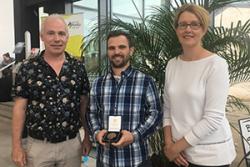 David receiving the Bronze Drapers' Medal: L-R: Dr Hefin Gwilym, Dr David Beck, Prof Carol TullyIn July, David was awarded a prestigious Bronze Drapers' Medal for his outstanding work as a postgraduate student.
David said: "My research into the increasing number of food banks across Wales came as a direct result from my time volunteering at the Cathedral Food Bank in Bangor. Listening to the stories of those people who have been left behind by a retrenching provision of social security, I have been truly humbled by their description regarding the circumstances, which have caused their food poverty.
"Like many students, funding has always been my main and only issue. This study, although covered by a tuition fee bursary, did not come with any stipend or financial help, so I had to work full-time across four different jobs. On some occasions, my research hit home, as we also sometimes recognised this issue in our own house, as we struggled being on a low income.
"After five years of unfunded full-time study it feels awesome to have finally finished the PhD.
I would like to further my research into food poverty, and to look at the drivers of issues around food poverty, and the potential challenges we face going forward, especially with Universal Credit and the rising cost of food post Brexit. I enjoy my teaching that I do here at the University and would love to continue teaching and research."
David's PhD supervisor, Dr Hefin Gwilym, Lecturer in Social Policy, School of History, Philosophy and Social Sciences, said:
"David has made an enormous contribution to understanding food poverty in Wales, particularly the rise of charitable food banks which he has mapped between 1997 and 2015 for his PhD. He has given expert evidence to committees of the Welsh Assembly and the UK Parliament. His external examiner, Prof Jon May of Queen Mary University. London, described his thesis as 'brilliant'."
Related stories:
PhD student attends launch of parliamentary report on hunger
MP praises pioneering Food Bank research
Putting poverty under the spotlight
Welsh Food Banks on the increase
Bangor University students awarded prestigious Drapers' Company medals
Publication date: 13 December 2018