The full weight of the Law Degree – embracing new experiences sees Sioned graduate with a First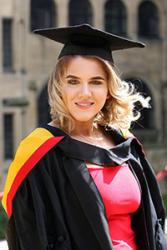 Sioned WilliamsWith her sights set on a career in the legal profession since a very young age, a Bangor University student has become a step closer to achieving her dream.
Sioned Williams, 21, from Bodorgan, Anglesey graduated this week with a first-class Law degree. The former Ysgol Gyfun Llangefni student is the first in her family to attend university after choosing to study at Bangor through the clearing process.
Juggling part-time jobs and full-time study, Sioned seized each opportunity available to gain useful and rewarding experiences.
Sioned explains: "When I began my studies, I was aware that I was lacking in confidence, and so pledged that I would get involved in as many activities as I could during Welcome Week, and join as many societies as I could. During my first few months, I mooted for the first time in English, which was something I thought I would never have done, as I had only started University in the previous month. This definitely helped build my confidence, as I soon entered more competitions.
"I was fortunate to be awarded a Coleg Cenedlaethol Cymraeg scholarship, and was awarded a certificate for completing an oral and written exam. This proves that I can confidently speak and write in both Welsh and English. I also became the Welsh Representative for the Legal Advocacy Society, which was great to be able to establish connections, as well as promote the Welsh language."
During her second year, Sioned had a week's work experience at the Welsh Assembly with her local Assembly Member, Rhun ap Iorwerth. An interesting experience, Sioned had the chance shadow a legal adviser and met with those who worked for other Assembly Members and the First Minister.
Shortly after the European Referendum, Sioned accompanied the Law School to various European Union Institutions, visiting Brussels, Luxembourg and Strasbourg. She said: "This was very interesting as we got to hear from those working in the European Union about their experiences in relation to Brexit. We also had the opportunity to speak to a Minister in the Parliament who explained to us about the implications of Brexit and how it would impact us."
Sioned took on roles with various societies and gained valuable legal insights, she explained:
"I was a member of the Law Society as the Welsh Students' Representative for 2 years, and on the Legal Advocacy society as the Welsh Representative and the Treasurer for 2 years. I was also a part of the Street Law Society where we learnt about various parts of the law that was relevant to the man on the street, and went to schools and shelters to give presentations on what we had learnt.
"I was elected to sit on the staff and student panel for the Law School as the Welsh Representative for second year students.
"During my third year, again as a Welsh Representative, I was given the opportunity to sit on a panel with the Commission on Justice in Wales alongside the former Lord Chief Justice of England and Wales, Lord Thomas to discuss legal education in Wales. We also discussed the impact of legal education in Wales if the English and Welsh legal jurisdiction were to become separate.
"I also sat on a panel with the Welsh Revenue Authority as a Welsh Representative to hear about the new system that was established in Wales in April 2018 to share my views on how they could do things differently and how they could use the Welsh language."
In her third year, Sioned went on work experience to solicitors Guthrie Jones & Jones in Denbigh and was offered a job as a paralegal, which was relevant to what she was learning at the time, and helped her put theory into practice.
Sioned's dissertation looked at the area of Public Law and how Scotland's devolution settlement affects Westminster's Parliamentary Sovereignty. She said: "I was very pleased to have been awarded an A+ in this work, and am currently working with my dissertation supervisor to improve some elements of my work so that it can be published.
"My main highlight of studying at Bangor was being able to study through the medium of Welsh. I feel that by doing so, I have been able to not only study partly in my mother tongue, but also been able to prepare myself for the future as I wish to remain and practice in Wales. I'm also proud to have been nominated the most deserving Welsh law student for the Dr John Robert Jones award."
"It feels surreal to be graduating with a first-class degree. Three years at Bangor University have absolutely flown by and I'm currently working as a full-time paralegal. Come September, I'll be going to Chester to study a Legal Practitioners Course. During this time, I will also be working part-time as a sales assistant and one day a week as a paralegal to keep my front foot in the door!"
Publication date: 17 July 2018