Top of the class: Mature student Bryn discovers hidden talents
A mature student from Anglesey who left school with just a handful of "poor GCSE results" has finished top of his class at Bangor University.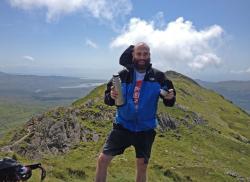 Bryn Moore
43-year-old Bryn Moore, who left school at 16, graduates this week with First Class Honours in Criminology and Criminal Justice, and the top marks in his year at the School of Social Sciences.
In September, he will start a Masters by Research at the university, after which he hopes to progress on to a PhD – a remarkable turnaround for someone who, as a teenager, decided that academia was not for him.
"I am absolutely certain that I would have struggled to complete a degree when I was younger", says Bryn, from Llangaffo. "Being a mature student means that you have life experiences to draw upon, which I think is a tremendous advantage, especially in the social sciences."
Some of those life experiences include working with ex-offenders to improve their literacy and numeracy skills and to support them in finding employment, and running his own business in anger management provision.
But it was a period of travelling across Europe in 2011 which sparked his new passion for education. "Whilst travelling I spent a significant amount of time reading a variety of books, which whet my appetite for learning", recalls the former Ysgol Gyfun Llangefni pupil. "I wasn't really sure what I would do once I arrived back home in the UK, but I knew I would relish some kind of challenge – some type of academic course. Going to university was suggested by a friend and it was the perfect choice.
"I remember reading the school prospectus before starting the degree and it said something along the lines of 'you might not view the world in the same way after completing your studies'", he adds. "This has been very much the case, and I have enjoyed seeing how societies work with a 'fresh' pair of eyes."
For Bryn, whose Masters degree will examine the militarisation of society, the university experience has been "life changing".
"I'd been fortunate to enjoy a varied and mostly satisfying career before university, but was precluded from applying for a whole host of jobs which I knew I could do well, simply because I didn't meet certain academic criteria. Studying at Bangor has improved my prospects by removing the barriers presented by a lack of qualifications.
"To graduate with a First and be named the highest-achieving student has been the absolute highlight – as well as discovering hidden abilities!"
Publication date: 16 July 2015