Welsh Agriculture Student of the Year graduates from Bangor University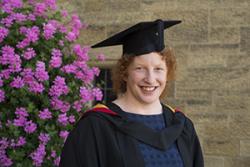 A Bangor University student who will be awarded the Richard Phillips Agricultural Student of the Year, at the Royal Welsh Show later on this month graduated this week.
Holly Pratt, 23, from Driffield, East Yorkshire, graduated with a BSc Agriculture, Conservation and Environment degree after four years of hard work at the University's School of Environment, Natural Resources and Geography.
A former pupil of Driffield School, Holly, is very proud of her achievement, and excited to be starting the next chapter of her life.
Holly said: "I live in a large agricultural market town in East Yorkshire, and what with the majority of my family being involved in agriculture; you could say it was in my blood! After studying for my A levels, I had no idea what I wanted to study, and took a gap year in which I worked at an agricultural company, and travelled to New Zealand.
"It was while in this job that I decided working in agriculture was something that I was interested in. From there I looked at a range of universities, and chose Bangor to be able to mix my studies with a variety of outdoor pursuits. The size appealed to me as I come from rural background, and unlike attending a specialist agricultural college, I felt that Bangor would allow me to meet a range of people studying a variety of courses. Conservation and the environment are becoming an important factor in agriculture, so the ability to study those modules along with agriculture modules has allowed me to have a wide understanding of the agricultural industry.
"As I love participating in all sorts of outdoor pursuits, rowing in particular; I joined the University's Rowing Club, and made women's captain in my second year. Juggling my studies and the captaincy enabled me to learn to manage my time efficiently and become and organised person - all useful skills for the workplace.
"For my third year, I took a year out in industry to work at Eurofins Agroscience Services. Through hard work, I've managed to secure a place on their graduate recruitment programme, and I start this month as an Assistant Agronomist, which, in time, I hope with further training and qualifications i will become a fully qualified agronomist.
Publication date: 10 July 2014