Would-be entrepreneur gains valuable skills and a prize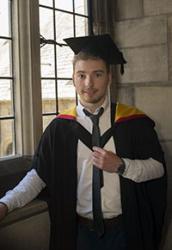 Thomas RichardsonThomas Richardson of Anderton, Northwich in Cheshire, who has graduated from Bangor University with a BSc degree in Product Design and was shocked, but also proud and grateful to learn that he had been awarded the Normal Prize at the University.
The Normal Prize of £400 is Awarded from a fund from the former Coleg Normal, now a part of Bangor University, for the best academic performance across undergraduate subjects at the University's School of Education.
A former student of Sir John Deane's College, Northwich, 21 year old Tom took advantage of several opportunities offered to him during his time at Bangor University. As well as undertaking three different work experience periods with three different companies, he also took part in 'Enterprise by Design', an innovative programme offered by the University which cuts through traditional academic boundaries to bring students from different subjects together to compete in multi-disciplinary teams. He also competed for the Santander Universities Entrepreneurship Award, which involved 'pitching' his business ideas to a panel of judges.
Thomas says that during his time at University, in addition to his degree learning, he also developed organisational and time management skills, which were vital. These skills will also prove vital as he hopes to work as a product designer and eventually hopes to set up his own business.
Tom was both joyful and relieved to be graduating and was also grateful for the support of his University lecturers and fellow students throughout the course.
Publication date: 15 July 2015