Covid-19
If further guidance is needed from Occupational Health following completion of Covid-19 Individual Risk Assessment regarding staff health and workplace risk, please complete the Covid-19 Vulnerability Questionnaire and an appointment will be arranged for assessment
Information about how Occupational Health assess individual vulnerability:
What is 'vulnerability'?
An individual's vulnerability to Covid-19 is the risk that they will develop serious illness, should they become infected by SARS-CoV-2. It varies according to age, sex, ethnicity, and underlying health (comorbidities), and is reduced by any personal immunity acquired through previous infection and/or vaccination.
A person's risk of serious Covid-19 is determined by their vulnerability in combination with the risk that they get infected. The risk of getting infected depends on the prevalence of virus in the local community (which can vary over time), and on individual circumstances and activities that predispose to contact with the virus. Also, like vulnerability, it may be reduced by personal immunity resulting from previous infection and/or vaccination.
The risk that someone will become infected through work can be reduced through control measures that minimise workplace exposure, including use of personal protective equipment. If, despite such mitigation, an individual is still at increased risk of acquiring infection because of their work, then their personal vulnerability must be considered.
What is Covid-age?
Covid-age is a simple, user-friendly tool that helps assess an individual's vulnerability to Covid-19 in the absence of previous infection or vaccination. It is based on published evidence for the main identified risk factors. That evidence indicates that vulnerability to Covid-19 increases exponentially with age; for example, in comparison with a healthy person aged 20, a healthy person aged 60 has more than 30 times the risk of dying if they contract Covid-19.
Covid-age summarises vulnerability for combinations of risk factors including age, sex and ethnicity and various health problems. It works by "translating" the risk associated with each factor into years, which are added to (or subtracted from) an individual's actual age. This then gives a single overall measure of vulnerability, expressed as the age of a healthy white man, not previously infected or vaccinated, who would be expected to have similar vulnerability. It can be used in people with no underlying medical conditions or multiple medical conditions. In this way, one measure combines an individual's risk factors with their actual age.
Because every individual is different, Covid-age is not an exact measure of vulnerability, but it should help to ensure that evaluations are consistent with the current balance of scientific evidence. It is intended for use as part of occupational health assessment of individuals' fitness for work.

Once an individual's COVID age has been identified - consideration of workplace risk and factors and whether the staff member has been vaccinated, the type of vaccination and/or whether they recently had Covid-19 infection:
The table below presents the overall risk pre-vaccination / infection.
*** You will drop down to the next lower Covid-age category below your calculated level if:
You had the infection in the last six months
You had the first dose of Pfizer BioNTech vaccine more than 10 days ago
You had the first dose of AstraZeneca vaccine more than 21 days ago
Matrix guide for estimation of a worker's overall risk pre-and post-vaccination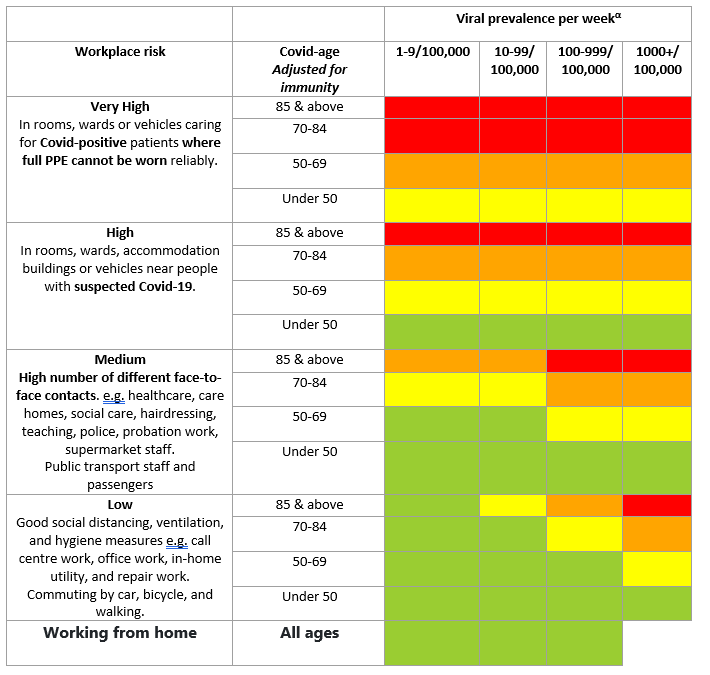 It is important that Line Managers assess viral prevalence on a weekly basis and update the individual risk assessment as an individual's workplace risk can change. The weekly viral prevalence levels can be calculated here:
Covid-19 in the UK: How many coronavirus cases are there in my area? - BBC News
For example, the viral prevalence level in Gwynedd was: 24 cases per 100,000 people in the latest week 19 Apr-25 Apr. The average area in Wales had 31*
The viral prevalence in Wrexham was: 24 cases per 100,000 people in the latest week 19 Apr-25 Apr. The average area in Wales had 31*.
You can find further information regarding individual Covid-19 risk assessments and templates on the Campus Wellbeing Webpages.