Student Ambassador: Hilyah Kholis Audah – Psychology with Neuropsychology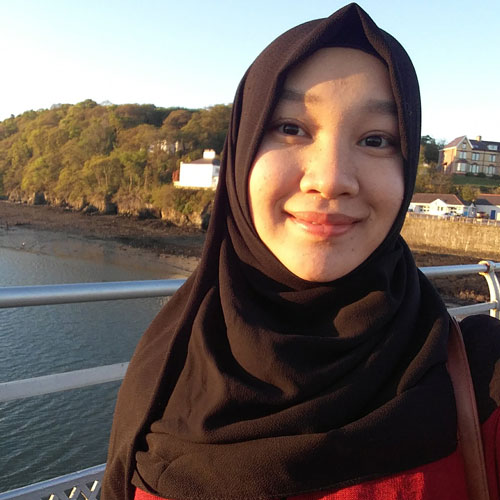 Hilyah Kholis Audah
Languages spoken: Indonesian, Malaysian, English
Why Bangor?
I am currently studying Psychology with Neuropsychology, I am in my second year. I chose to study here because of my interest in Neuroscience. Universities in Indonesia do not offer Neuroscience related undergraduate programmes, and I was ecstatic to find a programme at Bangor University.
The International Ambassador Scheme…
It provides an opportunity to help out their fellow International students in adjusting to life at Bangor University and help spread awareness of cultural diversity within the University. I wanted to become an Ambassador to help and connect with other International students, share the diversity in our cultures, food within Bangor University to other students.
What is the most difficult thing about being an International Student
For me it was having to adjust to a different Education system. Where I'm from, essays are not a big part of our education. Coming to Bangor, and being able to write essays that are up to University standards was the hardest thing I had to do as an International Student.
The Course

The ability to write assignments in topics that interest you is the best part of my course.
The Lecturers

I love the wide range of support and services students are able to use during the course. It really help students that are struggling with any kinds of issue. Be it coursework issues to mental health.
Clubs and Societies

I am in my second year as being the secretary of Bangor Indonesian's Society. I am also part of the committee of the newly founded Bangor Public Speaking society, as a training coordinator.
I enjoy events with musical performances, such as singing and dancing.
Bangor and the area

Because Bangor is so small, you can basically get anywhere by foot, which is great!
The best thing about Bangor

The beautiful natural scenery that surrounds Bangor.
Support from the University

Yes, very much so!  There are lots of services offering support from my personal tutor to Student Services and the International Support office.
Advice for new International students?

Don't be scared of a new environment, trying out new things, having friends with different backgrounds or moving to a different country or city. Those changes in your life are the best parts of University life as it will help you grow as a person.
The Future

I plan to continue my studies at a graduate level, and hopefully someday become a lecturer.