Student Ambassador: Maria Fernanda Rodriguez Aguilar – Media Studies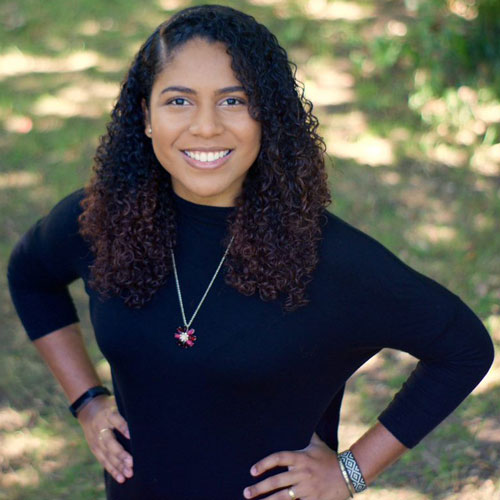 Maria Fernanda Rodriguez Aguilar
Maria Fernanda, who is known as 'Mafer' is 23 years old and from Colombia.
Languages spoken: Spanish, English
Why Bangor?
I was looking at the opportunity to study in the UK for a while, researching different degrees. I saw a Facebook ad for Bangor University that said they accepted international students, I had a look and applied immediately. After researching more about Bangor, it looked as if it had a good level of education and had many international students. I chose to study here because the course was exactly what I was looking for in my chosen profession. There were also various possibilities of getting finance aid and scholarships, which I applied for and was successful.
The International Ambassador Scheme…

When I was applying to Bangor, I got lots of help from the International Education Centre, there was so much guidance about the course, the visa, qualifications, translations, etc. I know the process can be stressful but being able to rely on the University support made the transition easy. I just wish to help others in this process in the same way I was aided.  I think Bangor is an excellent university, and more people should know about it.
What is the most difficult thing about being an International Student?

There is a lot that international Students go through when doing a course abroad. The main thing is the sudden change when arriving to a new culture, especially if you come from a place that is totally different to the UK. There is A lot to figure out from how to manage the currency, transport, shop, eat, to how to perform at the university or interact with others, embrace the welsh culture and the cultures in the university.
The second most difficult thing is the way the education system works. Sitting on a classroom elsewhere in the world is somehow different to what you do in the UK. Coming from High School and a couple of years of University in Colombia, I noticed the performance of the student here is different and requires you to be more independent and organise your time better. This could be challenging at first, but the University has lots of support to make you better and once you've got it, your performance improves.
The Course

The best thing about my course is that there is a good balance between theory and practice. I think in the technicalities in media come from a simple explanation of how to use something and then learning how to do it in the practice. I enjoy every minute of the lectures and think the amount of time left for students to read and deepen in the topics is perfect, it makes you want to know more and gives you a chance to balance your time
The Lecturers

The School of Music and Media is amazing! It is hard to say what is the best thing about it. First, the lecturers are so passionate about what they teach that even if you are not that into the topic you get hooked from the first lecture. Second, there are screenings, workshops, seminars and more that give you the change to interact with your classmates and share knowledge in a fun relaxed environment. Third, everyone from the staff to the students are very friendly and helpful. Finally, all the places the lectures take place are diverse, sometimes it is the cinema room in Pontio, other times a lecture happens on a theatre stage, computer room or studio!
Clubs and Societies

On my first year I was very involved in the Film Society. I really liked it because it contributed to many aspects of my career. You get to produce films and spend time with people who share your interests and hobbies. I also attend to events of the Latin American Society, it is a great time to catch up with people who share the same culture, language and dances. Cultural events and social events that involve dancing are my favourites.
Bangor and the area

Living in Bangor you have everything you could need in a walkable distance. You can go to town and enjoy clubs, restaurants and shops, then walk a few minutes and be beside the sea, forest, or mountains.
The best thing about Bangor

The beautiful town, the mountains, rivers, the sea and all the outdoor activities to do. Listening to people speaking in welsh and their kindness and of course the beautiful University campus, especially the old library.
Support from the University

The university has been very supportive. I've found myself struggling with writing so I've had a lot of support from the Study Skills Centre. My personal tutor is always asking how I am doing and answering any questions about my course or even just listening about how I am feeling.
Advice for new International students?

I would tell them to come with an open mind for all the opportunities and experiences they will experience in their time here. Bangor has so much to offer, and sometimes people can think it will all be intense study, but the truth is that there is time for so much more.
The future

After graduating I am hoping to do a Master's in something related to film directing, art production, or media culture. After that it is pretty much open to any opportunity that comes in the way, but I am hoping to go back to Colombia.
 
Studying in the Bangor was one of the best decisions I've made. I think if more people tried studying in different places and then coming back to their home countries, the way society works will be enriched with top level knowledge from different places. I know when I go back to Colombia, I will try to innovate the way film production, media and/or education work with whatever job I have.