Student Ambassador: Nebu George – PhD in Archaeology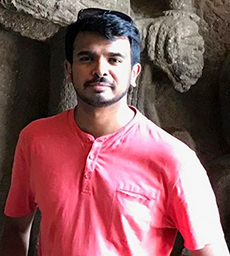 Nebu George
Nebu George is from Mumbai, India. After having completed his undergraduate degree in Archaeology and masters in Celtic Archaeology at Bangor, he is currently pursuing a PhD in Archaeology with period ranging from prehistory to Viking age in Britain.
Languages spoken: Hindi, Marathi, Malayalam, Tamil, Gujarati, English
Why Bangor?
After having a great experience doing my undergraduate and master's degree, I had no hesitation in choosing Bangor for a PhD. The staff, the opportunities and the place (in terms of landscape and prime research area) helped in making an easy decision to do my research in Bangor.
Most difficult thing about being an International Student?
The most difficult thing about being an international student is probably the time you are away from your family.
International Ambassador Scheme
The International Ambassador Scheme helps prospective as well as current students of Bangor from different places around the world to be introduced to Bangor and it also helps in having a familiar face to talk for such students in a place that can be initially strange and daunting.
The Course..
Best thing about my research is the various archaeological projects that I get to be involved in as well the travelling to different places involved. One of my research areas is the Hebrides in Scotland, which I am particularly fond of. The joy of excavating in such areas is a bonus.
The Academic School..
My school has been always very supportive in many ways. The lecturers are particularly enthusiastic about their field of expertise which always tend to have an influence on you. Furthermore, among the primary reasons for my continuing study in Bangor are the staff in my school.
Social Activities..
Traveling with friends to different place, a good day of mountain walking, I also enjoy a good barbeque with friends on nice sunny day among many other things.
What's the best thing about living in Bangor?
Living in Bangor means living in a place of scenic beauty. The greenery, the beach, the pier, the hills and the mountain just become a part of your daily life.
What will you miss most about Bangor when you leave?
I will miss my friends the most but I will also miss being around such a beautiful place.
Has the University been supportive during your time here?
The University has definitely been supportive in many ways. Life here as a student has been made a lot easy with constant support from my personal tutor, supervisors and the international student support team. Student services always play a vital role in the general welfare of a student.
What advice would you give to students planning on coming to Bangor?
Always be open to new experiences and travel around as much as you can.
The future?
After I have completed my PhD I hope to take up a position in academia and continue research and teaching.