Bangor in Brazil: New Academic Research Agreement
Bangor University and Fundacáo De Amparo Á Pesquisa Do Estado De Sáo Paulo (FAPESP) announced the release of a new year collaborative Academic Research Agreement on June 19th 2012.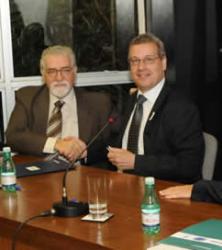 Celso Lafer, President of FAPESP and Professor David Shepherd, Deputy Vice-Chancellor, Bangor University
The objective of the collaboration, which is has been agreed for five years, will fund joint research projects involving researchers from Bangor University and the State of São Paulo. Bangor University and FAPESP agree of the importance of cooperation in all areas of knowledge.
Sir John Beddington, the UK's Chief Scientific Adviser acted as a witness to the signatures on the agreement. Also in attendance were Alan Charlton, British Ambassafor to Brazil, Celso Lafter, President of FAPESP and Professor David Sheperd, Deputy Vice Chancellor.
FAPESP are particularly interested in collaborative research with Bangor Ubniversity in the areas of Ocean Sciences, Sustainable Agriculture, Environment and Electronic Engineering.
Professor David Shepherd, Bangor University commented:
"Collaboration with FAPESP is important not only because it will allow for greater capacity for global understanding and administration of important Brazilian ecosystems, but also because it will allow for cooperative studies to be carried out in Brazil leading to knowledge that is applicable in all tropical regions,"
This agreement will formalise and enhance the joint research programmes which have been conducted between Bangor University and universities in Brazil for over 30 years.
Publication date: 5 December 2012