Donate some clothes towards refugee support
As part of our Internationals Go Green programme, at the International Student Support Office we have organised a very special event with Pobl i Bobl, a local volunteer group that works with Refugee Families that are living here in North Wales; supporting them on their arrival to Wales and promoting integration.
On the 13th of December a group of international students will join Pobl i Bobl to help sort clothes and items that have been kindly donated by members of the community for refugee support. All the items to be sorted need to be boxed and sent to refugee camps in countries such as Syria and Lebanon and this is where you can make a difference!
For those of you who would like to join us in our bid to help refugee families, we are having a DONATION BOX at our Reception until the 12th of December. If you would like to donate those trousers you never use anymore, or that jumper you didn't get to use in the end, please bring them to our office! As long as the items are in a good state (not broken) they will be really appreciated and make a big difference to people in need here and elsewhere.
Diolch o galon a cofion gorau,
Alan, Louise and Marcel
International Student Support Office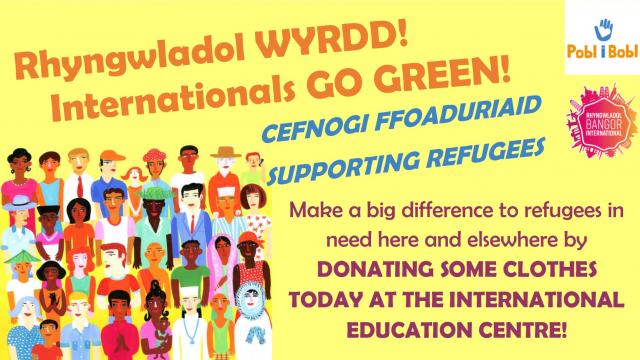 Publication date: 28 November 2018