Happy Diwali from International Student Support!
Diwali is the Hindu festival of lights and this year, to celebrate the occasion, six Bangor University Indian students were invited to Cardiff for a special event with the Rt Hon Carwyn Jones AM, First Minister of Wales.
International Student Ambassadors Charu Dada, Shailaja Bakshi and Srimonti Guha, together with Bangor Indian Society members Siddharth Shukla, Somya Singh and Yasharth Mishra travelled to Cardiff last Monday with Marcel Clusa from the International Student Support Office. Hurricane Ophelia could not stop the enthusiastically eager group to get to the Capital of Wales, where a big reception was waiting for them at the Millennium Centre. Students got to meet, mingle and even dance (!) with the First Minister of Wales, who dedicated a few words in his speech to acknowledge the importance of the current 2,000 Indian students studying the UK for the future of this country and for the future relations between Wales and India.
We all really enjoyed the event and everyone made us feel really welcome. In the words of Shailaja (PhD student in Linguistics) "It was interesting to see that not only Indians but even people from other nationalities such as Welsh came to this Diwali event! Everyone was SO welcoming!". "I loved every bit of my trip to Cardiff to see the First Minister and can't thank the IEC enough for such a wonderful opportunity given to me! It was a life time experience for me and I have come back with memories and friends for a lifetime!" said Yasharth (BSc in Computer Systems Engineering).
We would like to wish you all a Happy Diwali full of lights, happiness and joy and remind you that Bangor Indian Society will be hosting the biggest Diwali celebration in North Wales next Thursday 26th October at 7pm in PJ Hall. Don't miss it; Music, Dancing and Food awaits!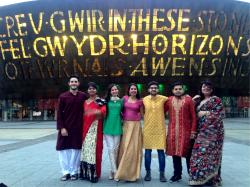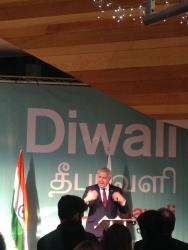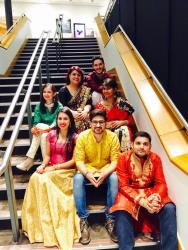 Publication date: 19 October 2017