International Mother Language Day Celebration!
Wednesday 21st February is International Mother Language Day. To celebrate this event, the International Student Support Office, LangSoc, UMCB and The Sustainability Lab have prepared an evening full of activities as part of Bangor University's Sustainability Carnifal!

The evening will start at 5:30 with short presentations by a few people from different backgrounds. At 6:30 there will be a quiz with prizes to be won and at 8pm a local Welsh folk band, Bwncath will come and entertain.
There will be a bar and it's free entry! Come and celebrate with us! A very warm welcome to everyone!
More info here: https://www.facebook.com/events/184543478812108/
************************** ***
Mae hi'n ddiwrnod mamiaith rhyngwladol ac i ddathlu'r digwyddiadau rydym yn cynnal digwyddiad gyda'r nos yn Neuadd Powis, Prifysgol Bangor.
Bydd y noson yn cychwyn am 5:30yh gyda cyflwyniadau byrion gan gymysgedd o bobl o wahanol gefndiroedd. Am 6:30yh bydd yna gwis ac yna 8yh ymlaen bydd Bwncath!
Bydd bar yno a mynediad am ddim! Dewch i ddathlu'ch mamiaith! Croeso cynnes i bawb.
https://www.facebook.com/events/940631436099578/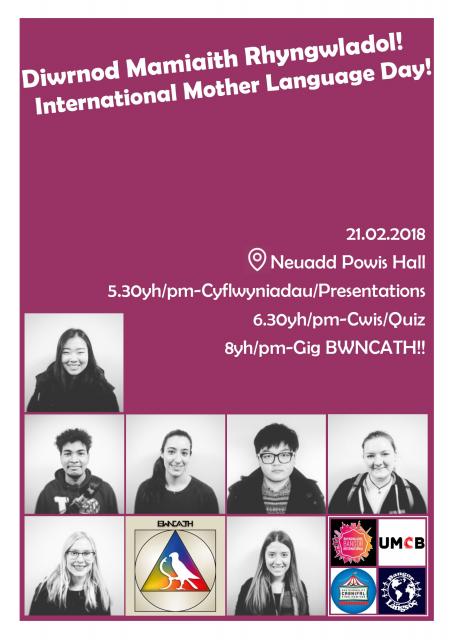 Publication date: 19 February 2018