International Student Newsletter - Summer 2017
The highlights of this month's issue include:
- Important information for EU/EEA Students.
- International Ambassadors' Column – Hindere Wong, Hong Kong.
- Internationals Go Green: Sustainability Week.
- UNDEB Nominations for Course Reps and for the Undeb Bangor Council.
- Enterprise by Design triumph for international students.
- Eisteddfod, the Biggest Welsh Festival of Music, Literature and Performance arrives to Anglesey this Summer.
- A goodbye message from the International Student Support Office and Exchanges Office.
It has been 9 months full of events, trips and great moments and we would like to send a BIG Thank You to all of you for your enthusiasm and good vibes!
Have an amazing Summer,
The International Student Support Office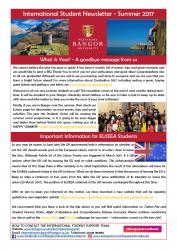 Related documents:
Publication date: 5 June 2017