Internationals Go Green - A Merry Green Christmas!
Have you been to Main Arts recently? On Thursday 30th November, a Christmas Tree was decorated with plastic litter by international and home students, together with staff and colleagues from Bangor University as part of a project organised by the International Student Support Office - called Internationals Go Green. The initiative consists of a series of trips and events aimed at raising awareness on environmental issues, sustainability and wellbeing among students. In addition, all the events are organised together with other University Departments and Local Organisations (with the North Wales Wildlife Trust this time) to enhance the Student Experience to the max and to work as a bridge between students and the local community.
The Tree was chopped down last week by students themselves in Cors Bodgynydd, a nature reserve managed by the North Wales Wildlife Trust as part of their conservation project to preserve a wetland from invasive tree species such as this one. All the litter used to decorate the was collected from previous Beach Cleans around North Wales, highlighting the problem with plastics and littering in our current societies.
Did you know at least 8 million tons of plastic enter the oceans each year? Or that one million sea birds and 100,000 marine mammals are killed annually from plastic in our oceans? BUT YOU CAN CHANGE THAT AND MAKE A DIFFERENCE FOR THE FUTURE OF THE PLANET! Check out the 5 Golden Rules for a cleaner Bangor below and join the international students at Bangor University in their bid for a better World:
1. Always carry 2 shopping bags with you, you never know when you might need them.
2. Stop buying bottled water/refreshments, use a stainless water bottle instead.
3. Reduce the amount of single-use products and plastic packaging when shopping.
4. Dispose your waste in the appropriate bin and do not litter when out and about.
5. REINVENT IT! Use recyclable materials to explore your creativity, from flower pots to home decorations.
After Christmas, the Tree will be borrowed in Denbighsire's sand dune reserve to help stabilise this unique habitat together with the Denbighsire Countryside Service. This will close the full cycle of an invasive tree species that went from a Nature Reserve in Snowdonia, to Bangor University to be used for educational purposes and to raise awareness about the problem with plastic and littering, to then end up in a sand dune reserve, helping our unique Welsh coastline to become healthier and nicer for all.
For a cleaner, healthier planet,
Nadolig Llawen Gwyrd, Happy Green Christmas from the International Student Support Team!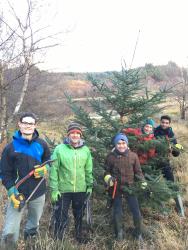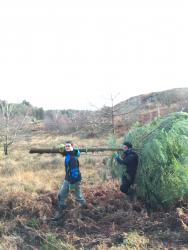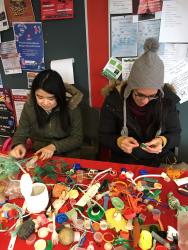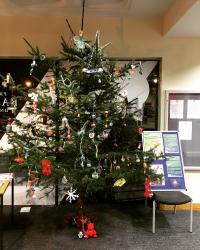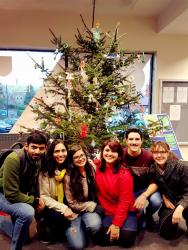 Publication date: 1 December 2017