Mindfulness Based Stress Reduction (MBSR) Course for International Students
The Counselling Service will be running an 8 week MBSR Course for International Students in collaboration with the International Student Support Team.
What is mindfulness?
Mindfulness is developed by purposefully paying attention in a non-judgmental way to our experience of our bodies, minds and the world around us. Mindfulness is about being awake and aware and living in the present, rather than dwelling in the past or anticipating the future.
Mindfulness is about observing ourselves without criticism, it is about being compassionate and accepting towards ourselves.
Mindfulness helps us to take a step back from our thoughts and feelings, giving us space to respond rather than react in stressful situations
Mindfulness gives us a set of skills, firstly to enable us to be aware of our unhelpful mental and emotional patterns and secondly to work with these patterns to improve our quality of life.
The MBSR course has been followed for over 35 years by thousands of people and research has shown its benefits include:
Greater self-confidence and more acceptance of life as it is.
An increased ability to cope effectively with both short and long-term stressful situations.
An increased ability to relax and experience calm.
More energy, enthusiasm and appreciation for life.
Improved concentration and ability to focus
An account of the mindfulness work of the Counselling Service including the international aspect of this work can be found on this blog
https://www.bangor.ac.uk/mindfulness/blog/experiencing-our-common-humanity-33172
The course will run on the following dates;
Orientation session: Monday 22 January 2018 3-4.30
Then 8 Weeks; Monday 29th January to Monday 19th March 2018; 3-5pm
In Rathbone Annexe Meeting Room.
For further information please email counselling@bangor.ac.uk or ask at the International Education Centre Reception.
Places will be allocated by application, sign up TODAY! few spaces available!
A link to further information about the course and an application form can be found by scrolling down to the mindfulness section on the page:
https://www.bangor.ac.uk/studentservices/counselling/events.php.en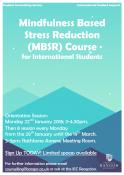 Publication date: 5 January 2018