Student profile: Anh Ngoc Mai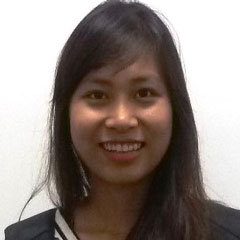 Name: Anh Ngoc Mai
Course: MSc Accounting and Finance
Hometown/Country: Vietnam
Why is Bangor University a good choice for the course you are studying?
Bangor University is ranked relatively high among other UK universities for Accounting and Finance courses. Studying for an MSc in Accounting and Finance gives me the opportunity to learn from the prestigious professors and lecturers who are truly enthusiastic with all of the students. My lecturers always provide me with good support and quick replies to any questions I have. Moreover, this course offers a wide range of interesting modules for me to choose from, after studying this course, I will not only gain solid knowledge in accounting but also a more confidence in my future career.
Tell us what you like about academic teaching quality at Bangor University?
I am satisfied with the teaching quality at Bangor University and the lecturers offer all of the students support and quick feedback. They are also very prestigious professors who have a broad range of knowledge.
What is the social life like in Bangor? Are you involved in any societies or sports teams? How easy it is to make friends here?
When I first came to Bangor which happens to be really far from my home, I suffered extreme homesickness, however, my love for Bangor slowly grew in my heart. People in Bangor are really nice and friendly and my landlord helps me so much. Bangor University hold interesting events which help me to not only have a fun time and make friends but also to have a good understanding about life. I frequently play badminton in Bangor University's sport centre with my friends and it is really a lot of fun.
Your experience of living in university accommodation OR private accommodation?
I live in private accommodation which is close to the Main Arts building and my room has a beautiful view of the mountains. I share the house with three of my friends, who are also Vietnamese postgraduate students and the living room is where we share and discuss experiences that we have in Bangor. We sometimes hold parties to celebrate special traditional days such as the Lunar New Year, Mid-Autumn Festival etc and we invite other foreign friends to join us and celebrate, they are really unforgettable memories.
What do you think about Bangor and the surrounding area?
Bangor is a beautiful place situated between the Snowdonia Mountains and the sea. In my free time, I like to walk to Bangor pier and enjoy the stunning view of Bangor in twilight.
Any experience with the free support services available to international students at Bangor University?
The first day I arrived in the UK I was so glad to see staff from the International Education Centre waiting in the airport. They not only provide international students with an airport pick-up service but they also arrange a welcome party to show us where things are in and around Bangor, this helped me so much during my first few days at Bangor. I can say that Bangor have offered international students like me an excellent free support service.
Experience of getting part-time jobs in Bangor? How easy is it to get one?
Bangor University has many reliable sources to access the various job opportunities available.
How confident are you that Bangor university degree will help you in taking your career forward?
After studying for an MSc in Accounting and Finance at Bangor University I have gained not only solid knowledge in accounting, but also the confidence in communicating with other people. The knowledge I gain from my course will be a solid starting ground for me to develop and move forward in my career.
What is the highlight/best thing about being a student at Bangor?
Bangor University has given me unforgettable opportunities to be able to travel and enjoy many beautiful places in Wales and the UK in general. I will never forget the beautiful views from the top of Snowdon Mountain. Bangor has given me the best environment to study and live in, not to mention the low crime rate and very friendly people that live here.
Describe Bangor in three words:
Unforgettable life moments