Student profile: Jasdeep Mago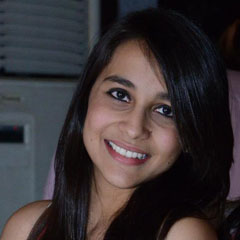 Name: Jasdeep Mago
Course: MSc Foundation of Clinical Neuropsychology
Hometown/Country: Mumbai, India
Why is Bangor University a good choice for the course you are studying?
Bangor University is one of the very few universities offering the course 'Foundations of Clinical Neuropsychology MSc'. They have an amazing faculty and modules that give you hands on experience with patients suffering from several neurological conditions, 'Behavioural Neuro'. The options for dissertation topics are wide spread to many fields within neuro, for example, imaging, clinical, biological neuro etc. which really helps to expose you to many areas of this specialty.
Tell us what you like about academic teaching quality at Bangor University?
The modules here are very interactive and allow the students to take part in class discussions and have experiences of their own. The course work given to us in most of the modules is very practical and helps you to get exposed to the actual disorders as opposed to just blindly reading from books and articles. We also had a brain dissection class where we got to hold a human brain and study the parts of the brain first hand. That has been one of the most exciting and intellectually stimulating experiences of my life.
What is the social life like in Bangor? Are you involved in any societies or sports teams? How easy it is to make friends here?
I live in university halls so it was very easy for me to make friends and mingle with other students. Since Bangor is a student town the social life revolves around the students which is very beneficial as well as socially friendly to all students. The clubs and pubs are cheap and fun, food is cheap as well. I have has a great time here in Bangor and my social life has been amazing. The common rooms provided to us are very helpful in these situations because that becomes a social meeting point.
Your experience of living in university accommodation OR private accommodation?
I lived in university accommodation and I have absolutely loved every minute of it, as I write this email I am also moving out of my accommodation and the feeling is so bitter sweet. This place has given me so much comfort, living with 8 people who are all from different ethnic backgrounds is not easy but this year has been a breeze. The halls office, mail office and security have been nothing but helpful and welcoming, the cleaner and the men who pick up the garbage are also very kind.
What do you think about Bangor and the surrounding area?
The surrounding areas of Bangor are nice and there is a cinema two train stops away and Chester is also a great place to visit. The beauty and serenity around Bangor is great.
Any experience with the free support services available to international students at Bangor University?
The international office is always ready to help with any problems students may have.
Experience of getting part-time jobs in Bangor? How easy is it to get one?
I personally wasn't looking for a part-time job while here at Bangor so I cannot give any first-hand experiences regarding this, however, a lot of my friends applied for part time jobs and they found it pretty easy to get a job. Also the university pays students who want to help out for the open days or for invigilation which is helpful.
What is the highlight/best thing about being a student at Bangor?
The best thing for me while at Bangor University was to gain this wonderful experience of living alone and making so many multicultural friends and getting to be a part of a different culture.
Describe Bangor in three words:
Best educational experience!